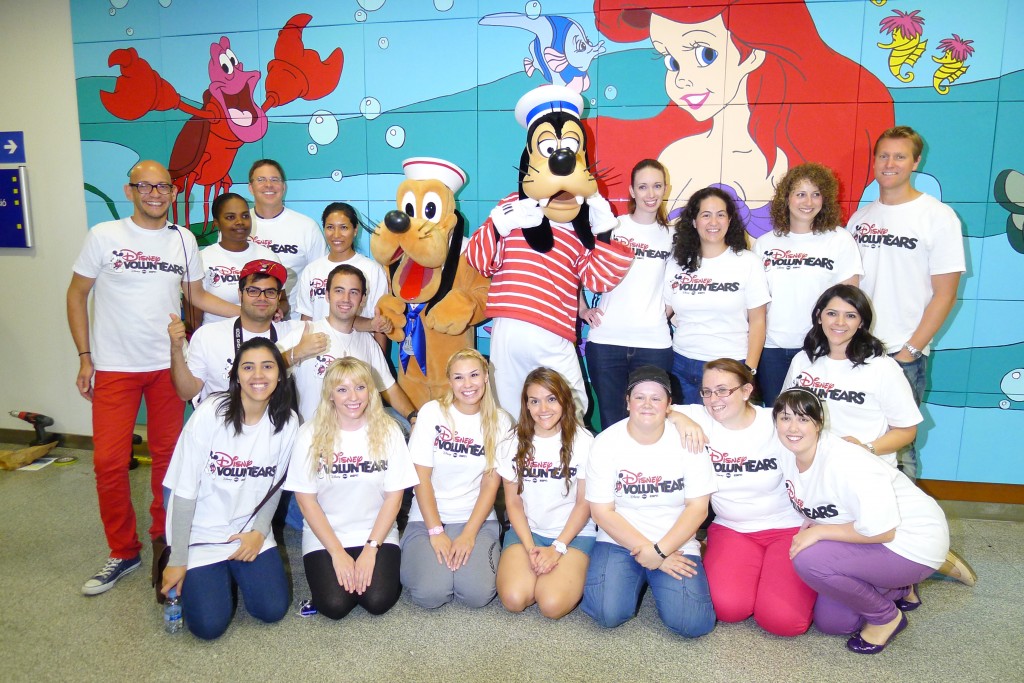 Disney Cruise Line today presented the Hospital General de Catalunya with a larger-than-life Disney character mural as part of the company's commitment to give back to communities in ports of call around the world. The event celebrated the Disney Magic cruise ship's return to Barcelona, where the ship will home port for a summer of cruises to the Mediterranean, while also saluting the 30th Anniversary of the Disney VoluntEARS program.
Featuring characters from The Little Mermaid, the mural was hand painted by more than 300 guests and crew members during a "PaintFest At Sea", a Disney VoluntEARS program held in coordination with the non-profit, Foundation for Hospital Art, during the 14-night trans-Atlantic cruise from Galveston, TX to Barcelona.
"Disney Cruise Line is dedicated to making a difference and inspiring others to give back in both their own lives and across our many ports of call," said Rena Langley, vice president of Public Affairs for Disney Cruise Line. "The creation of this mural through 'PaintFest At Sea' is a great example of the impact that our crew members, guests and their families can have when they come together for a great cause."
As part of the "PaintFest At Sea," crew members and guests volunteered, collectively giving nearly 500 hours of their time, to hand paint 72 pre-drawn and color-coded individual canvases that together comprised the full mural, which measures 9 feet high and 24 feet long (approximately 2.7 meters high and 7.2 meters long). Designed by Disney character artist Don "Ducky" Williams, the mural features characters from Disney's The Little Mermaid, including Ariel, Flounder and Sebastian, the calypso crab. Hundreds of children annually will experience the mural as they pass through the corridor where it hangs in the Hospital General de Catalunya to receive treatment.
"This is one of the largest murals we have ever created," said Scott Feight, executive director of the Foundation for Hospital Art. "Seeing the reaction of the children here today showcases the true power of our mission of utilizing art to uplift the spirit and support healing in hospitals around the world."
Disney VoluntEARS along with beloved Disney characters were on-hand at the Hospital General de Catalunya to assist in presenting the mural to hospital staff and hanging the mural.
VoluntEARS also visited with the children in the hospital, which is one of many community outreach projects taking place to deliver toys and smiles to deserving children in the port communities along Disney's Mediterranean itineraries this summer.
Foundation for Hospital Art
The Foundation for Hospital Art has helped to bring together nearly 1-million volunteers and patients to create over 40,000 paintings for over 4,000 hospitals in 195 countries with its mission of providing compassion through art to every hospital in the world. Since 1984, the Foundation has been dedicated to involving patients and volunteers worldwide to create colorful, soothing artwork donated to hospitals. PaintFests are just one way the Foundation involves volunteers.
Disney Cruise Line has worked together with the Foundation to provide volunteer opportunities for cast and crew members aboard all four of its cruise ships, the Disney Magic, Disney Wonder, Disney Dream and Disney Fantasy, those at private island Castaway Cay in The Bahamas and at the line's shore side offices in Florida. Disney VoluntEARS paint specially designed murals with Disney character art, then donate the murals to hospitals in the communities Disney cruise ships call home.
Since 2005, Disney Cruise Line VoluntEARS have donated more than 900 hours to hand paint 47 different murals for delivery to hospitals and care facilities in Disney's ports of call.
Disney VoluntEARS
2013 marks the 30th Anniversary of the Disney VoluntEARS program, organized to provide opportunities for Disney cast members, crew members, Imagineers and employees to contribute their time and talents to help strengthen communities around the world. Since 1983, Disney VoluntEARS across Disney's many business units, including Disney Cruise Line, have given more than 7.5 million hours of volunteer service in more than 40 countries worldwide. That's the equivalent of one person volunteering for 855 straight years! Projects include everything from bringing Disney characters to share smiles and laughter with children in hospitals and care facilities to participating in beach cleanups, leading reading programs and building community programs.
Itinerary Details
Beginning June 1, 2013, the Disney Magic returns to Europe with plenty of new twists to the Mediterranean itineraries, including a four-night option and special 12-night sailings in addition to seven-night itineraries that treat guests to the best of Europe during the three-month season.
The new 12-night sailings visit destinations such as Venice, Italy, and Croatia's Dalmatian Coast on one itinerary and Ephesus, Turkey and the Greek Isles including Athens, on another. Each itinerary will offer a sailing departing in June and another departing in July.
All itineraries depart from Barcelona, Spain, as the Disney Magic takes guests on an exciting journey of richly diverse cities, cultures and people. With romantic boulevards, bustling bazaars, iconic locations, mild climates, sun-drenched islands and the brilliant blue Mediterranean Sea, guests will enjoy a world-class family vacation with legendary Disney guest service.