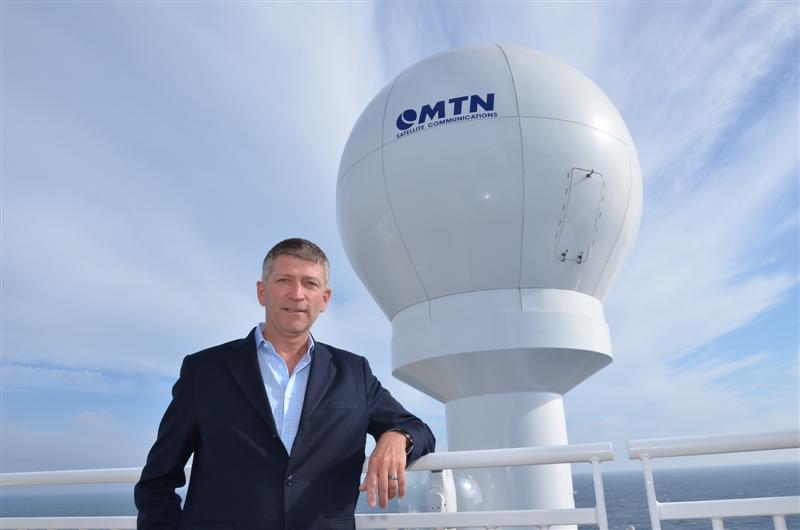 MTN and Norwegian Cruise Line (Norwegian) announce that a new record for social media usage at sea was set during Norwegian Breakaway's highly anticipated New York inaugural events. MTN delivered the communications services for its partner, Norwegian, enabling this social media breakthrough that helped promote the launch of Norwegian's new ship.
MTN partnered with Norwegian to deliver access to social media sites, as well as Norwegian's social media mobile app specifically designed for the NY inaugural events, to enable guests to share in real time their experiences on Norwegian Breakaway. The two Norwegian Breakaway inaugural events took place May 8-12.
The result generated more than 429,755 Facebook visits over the five-day period, and Instagram registered more than 56,862 visits and 1,715 pictures uploaded with the hashtag #NorwegianBreakaway. Guests utilized Twitter on board, and as a result, Norwegian received a record number of mentions and retweets about the content shared from Norwegian Breakaway.
As the leading provider of broadband communications at sea, MTN has tracked the majority of Internet traffic on cruise ships around the world since the advent of social media. Recognizing the importance of social sharing, Norwegian and MTN partnered to offer the best possible social media experience onboard a ship, which generated buzz among the travel agents, media and guests at the inaugural events.
This effort was a seamless collaboration between the Norwegian and MTN teams to ensure that the infrastructure and communications set-up were as close as possible to those at a land-based resort.
In addition to the social media sites — Facebook, Twitter and Instagram — Norwegian offered the Norwegian Breakaway Rocks NYC Inaugural Application. This mobile app was an industry first, specifically designed to enable social media activities for guests onboard Norwegian Breakaway. The app also provided users with access to onboard news and events, plus schedules, ship maps and more.
"This social media record set by MTN and Norwegian is a breakthrough for social media marketing at sea," said Lin Humphrey, 2011 Mobile Marketing Academic of the Year. "Enabling guests to share their experiences instantly has greatly increased Norwegian Breakaway's exposure, which ultimately results in improved guest satisfaction and opens endless viral marketing for Norwegian Cruise Line."
Norwegian Breakaway is Norwegian's most innovative ship to date, featuring three Broadway shows, including the Broadway smash hit "Rock of Ages"; 27 dining options, including three by Iron Chef Geoffrey Zakarian; the largest aqua park at sea, with five waterslides; a boardwalk-inspired area called The Waterfront; and more.
"We understand that, to our guests, the ability to post pictures, tweet and share experiences as they are happening is now a part of their everyday lives. We are always striving to deliver the best communication experience at sea, and it was vitally important that we do this during our launch in New York," said Kevin Sheehan, Norwegian Cruise Line's CEO. "Thanks to MTN and its reliable network, coupled with our strategic partnership, we delivered great service and enabled social media connectivity like never before seen during a ship's inaugural events."
MTN is providing very small aperture terminal (VSAT) communications services, crew calling, MTN Worldwide TV and Internet services to Norwegian Breakaway. MTN also outfitted the entire ship with a pervasive Wi-Fi capability.
"MTN is, and has always been, a cruise industry pioneer, delivering the most reliable network and constantly pushing the envelope to bridge the gap between communications at sea and on land," said Errol Olivier, president and CEO of MTN. "Norwegian Breakaway is a cutting-edge ship, and MTN is very proud to deliver this innovative service to such an inventive cruise industry partner."
Since installing the first VSAT antenna on a Norwegian ship more than two decades ago, MTN has been on a mission to provide greater value and service excellence by anticipating the needs of guests and crew. In keeping with the mobile "Bring Your Own Device" revolution, MTN continues to introduce products and services that address the needs of traveling consumers and staff. In 2012, MTN introduced MTN Nexus™, the company's next-generation hybrid