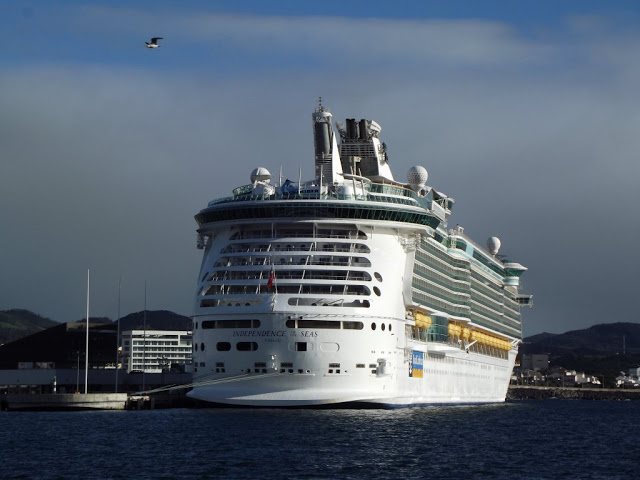 Royal Caribbean International today opened Jewel of the Seas' 2014 summer Southern Caribbean season for sale and announced the cruise line's 2014 Mediterranean cruises to complete its future Europe deployment.
Liberty of the Seas, Navigator of the Seas, Serenade of the Seas, and Splendour of the Seas will sail the Mediterranean and augment recently announced Independence of the Seas, Adventure of the Seas, Brilliance of the Seas and Legend of the Seas in Northern Europe, offering vacationers eight cruise ships
Royal Caribbean's 2014 Northern Europe cruises will open for booking on March 20, 2013, followed by its Mediterranean cruises on March 28.
"No one can deliver Europe to families like Royal Caribbean can," said Lisa Bauer, executive vice president of Global Sales and Marketing for Royal Caribbean International. "Only on Royal Caribbean can vacationers visit multiple destinations to experience the continent's history, culture and excitement, while sailing aboard our recently revitalized ships that are Designed for WOW. Guests will receive Royal Caribbean's friendly and engaging GOLD Anchor service from every staff and crew member, and enjoy up to five times more onboard dining options, and more exclusive and exciting entertainment, such as the DreamWorks Experience on Liberty of the Seas or the new spectacular aerial-acrobatic experiences in Legend of the Seas' four deck-high Centrum."
Most of Royal Caribbean's 2014 Europe fleet will have undergone the cruise line's fleetwide revitalization program, delivering an expanded array of delicious onboard dining options, such as the casual dining Park Café, Boardwalk Dog House, and Rita's Cantina to more sophisticated culinary experiences such as Samba Grill Brazilian steakhouse, the new Viking Crown Lounge with a menu of appetizers in a re-conceptualized modern club atmosphere, Izumi Asian Cuisine and the Chef's Table.
Royal Caribbean's youngest guests, ages 6 to 36 months, can enjoy the new Royal Babies and Tots Nursery, while three- to 11-year olds are led by college-accredited counselors in educational and entertaining programs developed with Fisher Price in the complimentary Adventure Ocean program. Teen also can meet new friends on their Europe cruise and hang out with peers in their own dedicated lounge and enjoy activities such as learning to mix music in Scratch DJ sessions or teen-only rock-climbing wall and FlowRider surf simulator sessions.
The recently revitalized ships also feature new modern amenities, such as pervasive Wi-Fi throughout the ship, digital signage, flat-panel televisions in newly refreshed staterooms, and a poolside, oversized LED movie screen for guests' enjoyment as they bask in the grand European sun. Independence of the Seas and Liberty of the Seas each also features a FlowRider and cantilevered whirlpools, as well as Europe's only ice-skating rinks at sea, also aboard Navigator of the Seas and Adventure of the Seas.
Liberty of the Seas will sail roundtrip from Barcelona on a seven-night, Western Mediterranean itinerary, calling at Provence (Marseilles) and Nice (Villefranche), France; and Florence/Pisa (La Spezia), Rome (Civitavecchia), and Naples/Capri, Italy. The Aug. 10 sailing calls at Cannes, France, instead of Nice. A four-night, roundtrip itinerary departing May 14 will offer vacationers a taste of the Freedom-class experience, with a call at Nice and Florence/Pisa. An eastbound trans-Atlantic sailing on May 1 and westbound on Oct. 26, both 13-night itineraries, will bookend Liberty of the Seas' Europe season.
Navigator of the Seas will homeport at Rome (Civitavecchia) to sail a seven-night Eastern Mediterranean itinerary, which calls at Sicily (Messina), Italy; Athens (Piraeus) and Chania (Souda), Crete, Greece; and Ephesus (Kusadasi), Turkey. Alternatively, vacationers have a second option to embark on their seven-night Eastern Mediterranean cruise, sailing roundtrip from Sicily (Messina). Additionally, vacationers can choose a 15-night Galveston to Rome or 14-night Barcelona to Galveston trans-Atlantic cruise, sailing May 4 and Nov. 9, respectively.
Vacationers also can embark on longer nine- to 12-night Italy, Greek Isles and Turkey cruises from Barcelona from May through August, and Venice from late August through October. From Barcelona, Serenade of the Seas will alternate 12-night Mediterranean Greek Isles and night Mediterranean Venice itineraries the latter featuring an overnight in Venice. From Sept., Serenade of the Seas will homeport in Venice and alternate 10-night Greek Isles and 11-night Greece and Turkey itineraries. Vacationers also can sail into Europe with Serenade of the Seas on a 16-night trans-Atlantic cruise from New Orleans to Barcelona on Apr. 26. Vacationers also can choose a nine-night eastbound sailing from Barcelona to Venice on Aug. 27 and a 10-night westbound return on Oct. 27, takeing guests throughout the Italian Mediterranean and the Adriatic.
For its part, Splendour of the Seas will homeport at Venice for its entire Europe season and alternate seven-night Greek Isles and Greek Isles & Turkey itineraries. The ship will reposition from Sao Paolo, Brazil to Barcelona for a 14-night trans-Atlantic voyage on Apr. 25, and then start its Europe season with an eight-night Italian Mediterranean and Adriatic itinerary from Barcelona to Venice. Splendour of the Seas concludes its Europe season with a seven-night Western Mediterranean cruise from Venice to Barcelona on Nov. 15, before returning to Sao Paolo on Nov. 22 on a 15-night westbound trans-Atlantic itinerary.