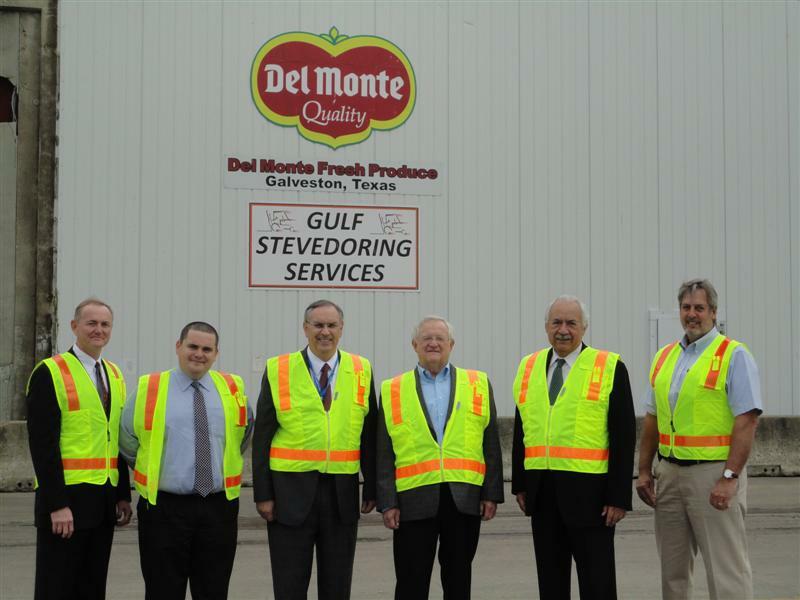 The Port of Galveston has completed the first phase of an expansion of Pier 16-18 that will support Del Monte Fresh Produce N.A. operations in Galveston.
The project is being partially funded by a $10 million Disaster Assistance Grant Program from the U.S. Department of Commerce's Economic Development Administration (EDA), which came to the aid of the port after Hurricane Ike.
Mr. Pedro Garza, Regional Director for EDA in Austin visited the Port of Galveston today to tour the project site with Port officials. The first phase of the construction project, which involved expanding the dock apron an additional 40 feet further into the channel and installing improved fendering and moorings was completed at a cost of $5.2 million.
These renovations will enable Del Monte to more efficiently discharge cargo from ships calling at the terminal. Mr. Garza was impressed with the new dock. "Projects like this fulfill EDA's mission to lead economic development, by making strategic investments that will encourage private sector collaboration with local governments to increase jobs for the region," said Garza.
The EDA funding enabled the Port to partner with Del Monte and compliment Del Monte's investment of $11 million in renovating their refrigerated warehouse facility to improve and expand storage capacity for fresh fruit from Guatemala and Costa Rica.
"The Del Monte cold storage operation has been a cornerstone of the Port since 1997", stated Roland Bassett, Wharves Board Chairman. This project demonstrates how the Port, through assistance from federal and state funding can improve infrastructure and promote job growth."
Port Director, Mike Mierzwa, added, "The next phase of the project will continue the dock expansion east to include all of Pier16 and is expected to be completed by July 2013. The completed project will support heavier dockside equipment and activity that will enable Del Monte to increase productivity at the terminal."
After Hurricane Ike, EDA activated the Disaster Assistance Grant Program. The Port of Galveston with the assistance of the Galveston Economic Development Partnership (GEDP) was able to obtain a grant through this program. In compliance with the Disaster Assistance Grant program requirements, the Port will contribute $5 million as a local match to expand Pier 16-18 and complete other dockside improvements.
The Port of Galveston, Texas' Star Cruise Port serves as the primary point of embarkation for cruises to the western Caribbean and the Bahamas will service an estimated one million cruise passengers in 2012. Four cruise lines, Carnival Cruise Lines, Disney Cruise Line, Princess Cruises and Royal Caribbean, sail from Texas' only cruise port.