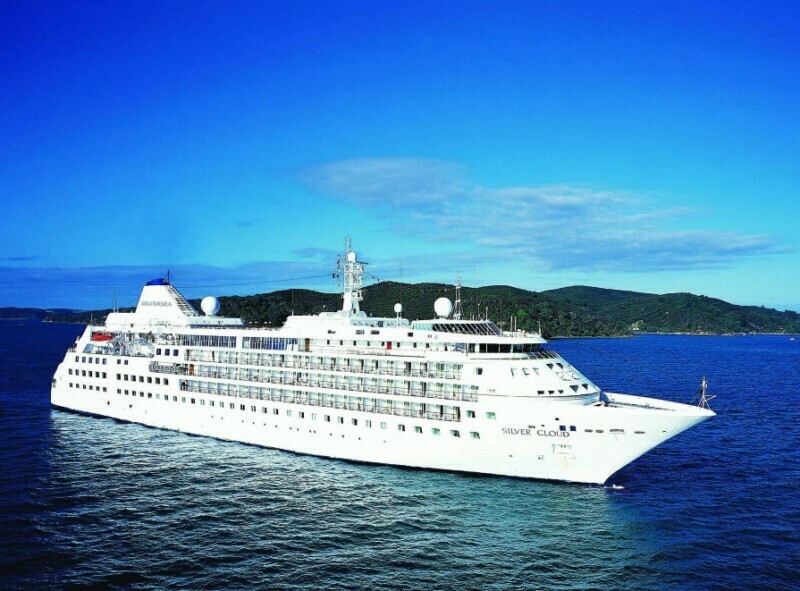 Starting this November, the Silver Cloud will welcome guests to a stylishly renovated shipboard environment brimming with a host of new enhancements, according to Silversea
A major stem-to-stern refurbishment will take place this month, with most of the work being completed during a three-week dry dock at Fincantieri's shipyard in Palermo, Italy. Overseeing the design and construction elements of the project is renowned Italian architect Giacomo Mortola.
The goal is to completely renovate Silver Cloud's interior decoration, including the suites, public spaces and dining venues, in order to introduce a fresh and contemporary classic atmosphere. Silversea is making a significant financial investment in this refurbishment to ensure its guests experience a renewed sense of luxury and comfort when sailing aboard Silver Cloud.
Highlights of Silver Cloud's makeover will include:
Refreshed Public Spaces: As soon as guests step aboard Silver Cloud, they will notice a totally renewed lobby displaying a color palette of warm earth tones that will be carried throughout most areas of the ship with the installation of stylish new carpets, wall treatments and artwork in the corridors, staircases and public spaces. Providing contrast to the main color scheme of the ship will be The Bar, which will be decorated in cooler shades of teal mixed with neutral tones of brown and beige. All new furniture, carpet, curtains and reconditioned wood flooring will give the Panorama Lounge a refreshed contemporary look, while The Spa and Beauty Salon will also get a makeover.
Dining Enhancements:
• Le Champagne, the only Relais & Châteaux restaurant at sea, will be completely transformed with an upgraded entrance design, the addition of gleaming, backlit wine displays, a redesigned seating layout, and new wood flooring, fabrics and window treatments.
• La Terrazza's updated interior will include a remodeled buffet area and handsome new banquettes along the walls, offering greater seating flexibility, including more tables for two.
• The Restaurant will be refreshed with chairs dressed in bright new fabrics, new window treatments and reconditioned hardwood flooring.
• The Grill, with its unique interactive dining concept, will now be featured aboard Silver Cloud as the existing Pool Bar and Grill area is expanded with additional seating, a large overhead awning, and the removal of the central stair unit, which will be replaced with a curving corner staircase. At this new outdoor restaurant, guests will enjoy an innovative dining experience that lets them cook prime meats and fresh seafood on heated volcanic rocks at their table.
Sophisticated New Decor for Suites: The sofas and chairs will be updated with new fabrics. All carpets, headboards, curtains and outside veranda furniture will be replaced. Each suite will have a new mattress custom-made exclusively for Silversea. The mattress will feature an individual spring system with a soft and firm side that can be reversed to suit each guest's preference. The new beds will be outfitted with plush new Pratesi sheets, pillowcases and duvet covers. All bathrooms will be enhanced with new flooring, marble appointments and either a new bath-and-shower combination or a new walk-in, glass-enclosed rainforest shower with sitting area, offering a soothing, spa-like experience. (This will replace the existing bath-and-shower combination in nearly 90% of the Veranda and Vista Suites). The Owner's and Grand Suites will be outfitted with a modern wet room bath configuration featuring a new rainforest shower that will be separate from the bathtub.
Upgraded Outdoor Spaces: The jogging track will feature all-new synthetic turf and the pool area will be outfitted with new deck furniture.
In addition to enjoying a fresh reconditioning and polishing of teak decks and woodwork, the ship will undergo thorough maintenance on mechanical and propulsion systems.