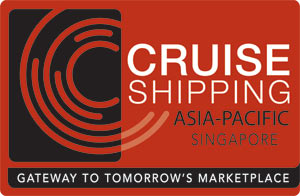 Starting today at the new Marina Bay Cruise Center in Singapore is the second edition of Cruise Shipping Asia-Pacific (CSA-P), a conference and trade show dedicated to the emerging Asia-Pacific cruise market, organized by UBM.
CSA-P is the only annual event for the entire Asia-Pacific industry, with exclusive partners CLIA, the FCCA, the ICCA and partnering with the ACA in addition to Cruise Industry News.
A state of the industry panel on Monday morning will get the dialog regarding the Asia-Pacific market going, featuring Christine Duffy, President and Chief Executive Officer, Cruise Lines International Association (CLIA) (Chair); Ann Sherry, Chief Executive Officer, Carnival Australia; Gianni Onorato, President, Costa Crociere S.p.A.; Roberto Giorgi, President, V.Ships; Gavin Smith, Managing Director, Royal Caribbean Cruises Australia; Jan Swartz, Executive Vice President, Sales, Marketing and Customer Service, Princess Cruises; and Dr. Zinan Liu, Managing Director China and Asia, Royal Caribbean Cruises Ltd.
Sourcing potential in Asia has led CLIA, the ACA, ICCA and UBM to draw up a travel agent program at Cruise Shipping Asia-Pacific, essentially training agents for the Asian market. Sessions are run by representatives from Costa, Silversea, Star, Princess and Royal Caribbean.
Other interesting panels include: localizing the onboard experience and revenue streams; air/cruise; destination development; terminal design; the emergence of China; newbuilds and refurbs; and much more – view the full program here.
CruiseIndustryNews.com will have the latest updates from the conference.