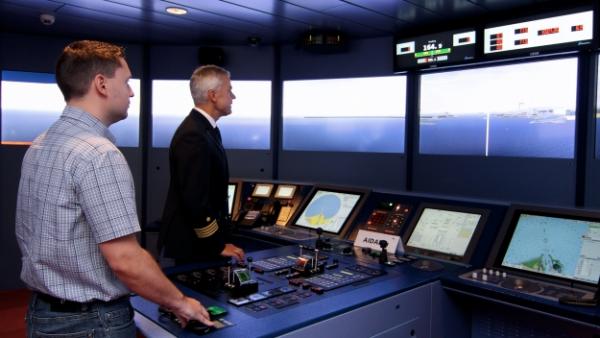 AIDA Cruises officially opened the first maritime simulator training center in Germany on Sept. 5 in the form of CSMART Rostock at the AIDA Academy, a center specifically geared to the quality requirements in the area of officer training and, consequently, for the safety of the cruise shipping sector.
"We are investing a great deal in the initial and further training of our nautical and technical management personnel. Well trained personnel are an important guarantee for the safety of our guests and crews", said Michael Ungerer, president of AIDA Cruises, on the occasion of the official opening in Rostock. "We expect our nautical and technical officers on board to have, in particular, mental strength and a sense of team spirit in addition to top-class specialist training. Each of them must be able to identify possible emergency situations extremely quickly and take the right decisions promptly. For this reason, the latest scientific findings from the aviation industry and other safety-sensitive sectors have also been incorporated into our training content", added Ungerer.
CSMART stands for Center for Simulator Maritime Training and is a globally renowned centre of expertise for the initial and further training of nautical and technical management personnel. CSMART Rostock at the AIDA Academy is, with CSMART Almere in the Netherlands, the second Simulator Training Center in Europe.
The Full Mission Bridge Simulator is a precise reproduction of the bridge on AIDAblu, which was commissioned in 2010. The ship handling simulator was produced by Rheinmetall Defense Electronic Bremen.
The integral safety concept of the Maritime Simulator Training Center also includes engine room simulation based on the SIEMENS control system on board the AIDA cruise ships.
Maneuvers taking account of influencing factors such as swell, wind, current, various lighting conditions and precipitation can be simulated 1:1 on the 220 degree panoramic screens. Training is carried out in the shipping areas visited by AIDA Cruises around the world, including the ports of Hamburg, Bangkok and New York, as well as busy areas like the Kadet Trench, the Dover Strait and the Bosporus.