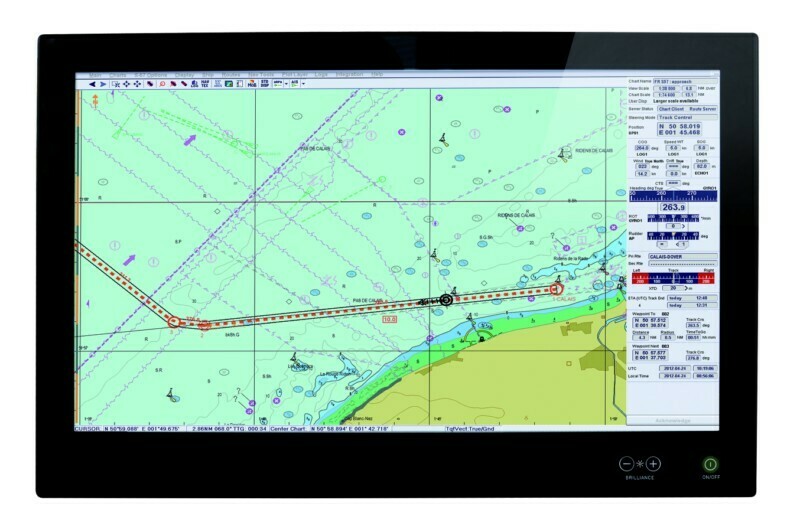 At SMM 2012 the German navigation system manufacturer Raytheon Anschütz will launch the new ECDIS 24, an Electronic Chart Display and Information System which has been designed especially for the needs of ECDIS retrofit.
Based on the well-known Raytheon Anschütz ECDIS software, the new ECDIS 24 comes with an off-the-shelf 24 inch TFT Panel- PC display. ECDIS 24 does not need a separate PC which simplifies and accelerates installation. The standard supply includes a separate interface-box with cable and a stainless steel trackball, all components being type approved.
ECDIS 24 already includes all serial interfaces as required by ECDIS performance standards IEC61174, for example to echo sounder, speed log, GPS / DGPS, AIS, gyro, and ARPA target integration. With connection for AC (main) and DC (emergency) power supply with automatic switch-over, safe operation is guaranteed without installation of a separate, costly uninterrupted power supply (UPS). If a double ECDIS is required, for example for paperless navigation, exchange of data, routes and charts is easy possible via an LAN interface.
ECDIS 24 displays data from navigation sensors on board, integrates AIS targets, features several mariner tools and conventional route planning function and provides a 24h log of data. In addition to these basic functions, ECDIS 24 offers advanced features regarding route and voyage planning that not only improve safety and ship's efficiency but also reduce workload for the operator. Among them are automatic route planning, voyage calculator, integrated environmental databases of tides and currents and optional weather chart integration.
The comprehensible and easy handling of ECDIS 24 is supported by a clear screen design and the use of the well-known menu structure of Windows applications. Important functions are quickly available through shortcuts, and a configurable Conning panel can show relevant navigation and track information at a glance.
Complementary to the ECDIS solution, Raytheon Anschütz offers approved manufacturer-specific online training for ECDIS in cooperation with Safebridge and land-based training courses in training centers around the world.