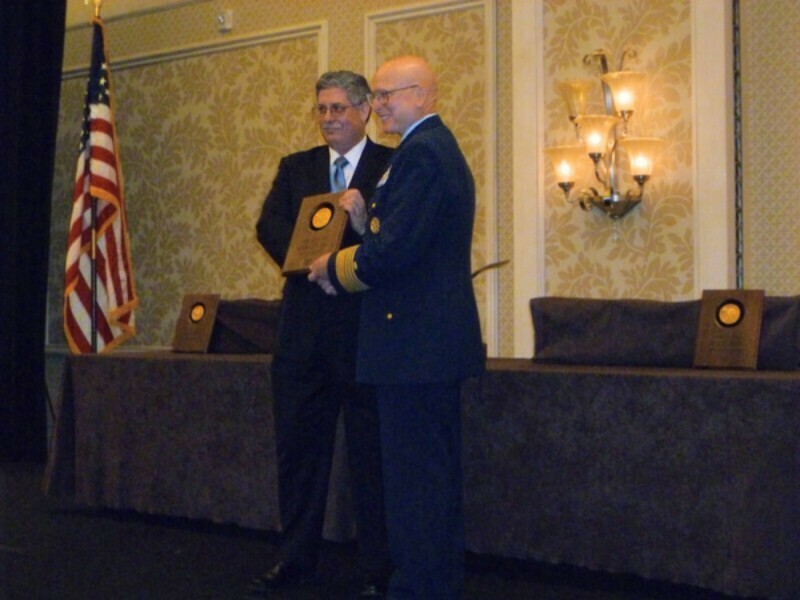 At a ceremony Monday, May 21, Holland America Line was presented a gold 2012 Rear Admiral William M. Benkert Environmental Protection Award from the U.S. Coast Guard in recognition of the line's environmental leadership and for successfully achieving several environmental objectives established by the company that exceed standard regulation. U.S. Coast Guard Commandant Admiral Robert Papp presented the award to Michael Inman, director, system management and program development, Safety and Environmental Management Systems for Holland America Line. The company first received the biennial award in 2010.
The U.S. Coast Guard Benkert Award was bestowed by a panel of experts based on a thorough review of the line's comprehensive approach to environmental stewardship. Besides the prestige associated with the Benkert Award, the award application process offers a venue for the creative exchange of ideas and innovations, and heightens awareness and underscores the innovation required to achieve environmental excellence.
"At Holland America Line we recognize that environmental stewardship is a daily responsibility, and we are continually seeking ways to enhance and extend our initiatives," said Stein Kruse, president and CEO of Holland America Line. "We are honored that the U.S. Coast Guard acknowledged our efforts with a second Benkert Award."
Holland America Line is a leader in environmental initiatives in the cruise industry with its comprehensive approach to managing impacts and reducing its overall carbon footprint. In 2011, the line implemented a sustainable seafood program that employs environmentally responsible purchasing practices to ensure that only sustainable seafood is used on all Holland America Line ships.
Holland America Line's Environmental Management System was certified in 2006 and recertified in 2009. The company works diligently to conserve fuel and water, employs the latest technologies for wastewater and oily bilge water treatment, and uses innovative strategies to reduce and manage its solid waste stream. The cruise line also is an industry leader in exploring new environmental initiatives such as a whale conservation and protection program and using shore power in a growing number of ports.
The William M. Benkert Award is the premier marine environmental protection award presented by the Coast Guard to members of the marine industry. The biennial award was created to recognize outstanding achievements in marine environmental protection that go beyond mere compliance with industrial and regulatory standards.
The Benkert Award objectives include:
• Improving the environmental performance and overall quality of marine transportation–related companies through a detailed self-assessment process against award standards.
• Encouraging the use of the international environmental management protocol developed by the International Standards Organization.
• Increasing public awareness of the importance of protecting the marine environment and delicate marine ecosystems.
• Providing a means for sharing with other marine enterprises successful methods and techniques used by the winners.