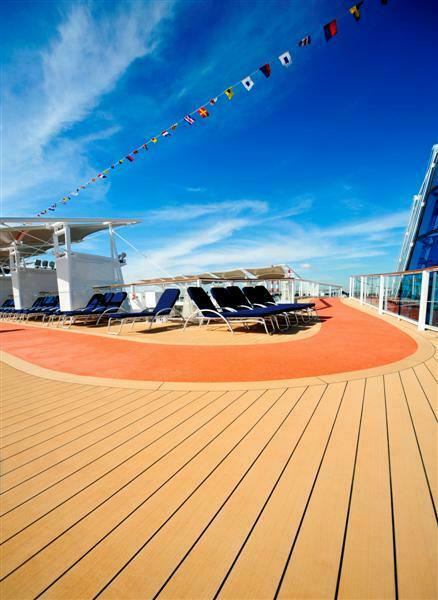 When the Disney Fantasy launches service next month, she will have 15,500 square meters of Bolidt materials on her outdoor decks. According to a press release from the Dutch company (which does not mention the Fantasy by name in line with Disney policy), a majority of the deck areas, including stairs and steps, are covered with Bolideck Future Teak, a composite that replicates the look and feel of real teak, but is ecologically more responsible and offers other benefits as well, such as reduced installation time and easier onboard maintenance.
Said Jacco van Overbeek, Bolidt's director of shipbuilding: "For the past 25 years all passenger vessels delivered by Meyer Werft have been built with Bolidt decks."
Other products used in the outdoor deck areas include Bolideck Select Soft, for some of the more colourful design features onboard, and Bolideck Select Hard for inside the pool wading areas. Bolidt has also supplied a special pool coating system and a base design for the bottom of the pools.
The new vessel also features more than 3,400 square meters of indoor deck coverings and in excess of 3,500 meters of C-Rail from Bolidt – a composite rail designed as an alternative to traditional teak handrails, offering significant weight savings, relatively low maintenance, and is a sustainable product that reduces deforestation.
Bolidt said that the 340-meter long newbuilding is a sister ship to a previous vessel, which was delivered by the yard in 2011, and which was also equipped with Bolidt deck solutions. Van Overbeek said: "As this was a second sister vessel, coordination with the yard and owner proceeded extremely smoothly and we were able to complete all the indoor and outdoor works while the vessel was still inside the yard's covered shipbuilding dock.
"The package we supplied provided a highly durable deck system, with enhanced design in terms of color schemes, that is also extremely environmentally-friendly, requires lower maintenance and has enhanced slip resistance."
Two further cruise vessels at the German yard due for delivery this year will also feature Bolidt products. For Celebrity Reflection and AIDAmar, the fifth and sixth in their respective series, Bolidt is supplying all the outdoor decks using Future Teak, as well as Bolideck Select Soft in certain areas, while balconies will feature Bolideck 525.
The Dutch flooring specialist is also installing decks onboard a series of four Viking river cruise ships, all of which are due for delivery in the first half of the year from Neptun Werft in Rostock, including Future Teak on the balconies – a first for the river cruise sector – as well as on the forward lounge deck both inside and outside, the embarkation decks and shuffleboard area on the top deck.
Later this year, another river vessel, the A-Rosa Silva, will have Future Teak on the embarkation deck, some balconies and the outside grill restaurant seating area, as well as the bar surround on the top deck.