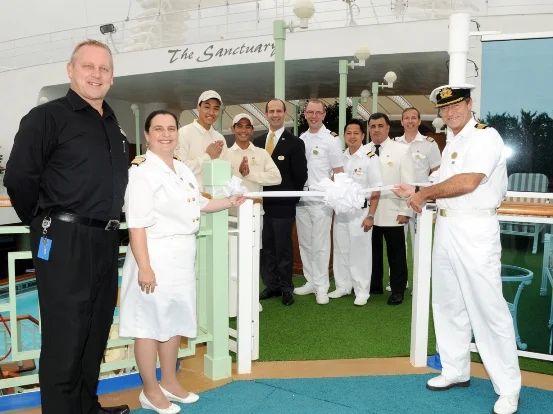 With the snip of a ribbon aboard Sapphire Princess, Princess Cruises marked the completion of a three-year project to add the line's signature "pocket of tranquility" – The Sanctuary – across the line's fleet. The popular adults-only retreat is now available to passengers on 14 of the line's ships (small ships Pacific Princess and Ocean Princess do not offer this feature).
The Sanctuary, which debuted in 2006 aboard Crown Princess, was an instant success as it gave passengers the perfect place to take a relaxing break and indulge in a private getaway with plush seating, massage cabanas, signature beverages, light meals, attentive service by "serenity stewards" and soothing personal entertainment.
To make room for the newest Sanctuary, the sports court on Sapphire Princess was relocated to a new space on top of Skywalkers nightclub. This new area high atop the ship also offers extra lounge chairs and dramatic ocean views.
The installation of The Sanctuary on Sapphire Princess marked the beginning of a transformation for the ship, which will receive many more Princess hallmark features when it goes into drydock from January 7 to February 4, 2012. During this extensive revitalization, the ship will receive the signature Piazza atrium with its International Café and Vines wine bar; the line's second "Alfredo's" pizzeria which was introduced earlier this year aboard Grand Princess; and the distinctive Movies Under the Stars poolside movie screen.