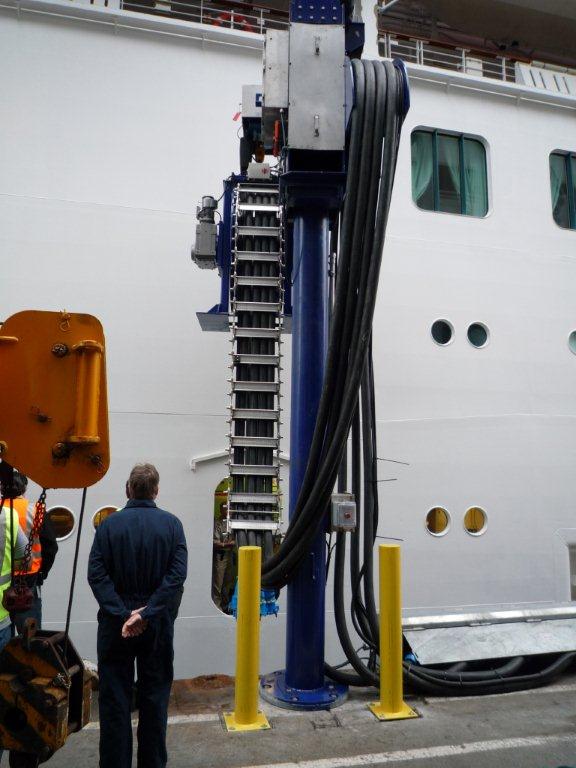 Port Metro Vancouver is proud to honour 11 recipients of its Blue Circle Award for 2010. Launched last year, this award recognizes the most eco-friendly vessels that call at the Port.
The Blue Circle Award acknowledges industry commitment to Port sustainability by recognizing the extraordinary environmental achievements of ships that participate in Port Metro Vancouver's EcoAction Program for Shipping. The program offers a financial incentive for cruise and shipping lines to reduce ship emissions.
"Port Metro Vancouver continues to make sustainability a top priority," said Robin Silvester, President and Chief Executive Officer of Port Metro Vancouver. "Our EcoAction Program provides an important financial incentive that encourages cleaner ships to our gateway. We are pleased to honour those who achieve excellence in reducing air emissions with our Blue Circle Award. "
As a global leader in Port sustainability, Port Metro Vancouver is committed to working with its customers, governments, and industry to continue to achieve reduced air emissions and a smaller carbon footprint.
Port Metro Vancouver's emissions reduction programs have attracted international acclaim, having been awarded the Globe 2010 ecoFreight Award for Sustainable Transportation and nominated for the International Sustainable Shipping Award. Shore power at Canada Place represents a key initiative that has contributed to the success of the Port's Air Action Program. Port Metro Vancouver anticipates a 40 per cent increase in shore power-enabled ships during the 2011 cruise season.
The 2010 Port Metro Vancouver Blue Circle Award recipients are:
• APL (Canada)
• Grieg Star Shipping (Canada) Ltd.
• Hapag-Lloyd (Canada) Inc.
• Holland America Line
• "K" Line
• Maersk Line
• Princess Cruises
• Regent Seven Seas Cruises
• Seaboard International Shipping Co. Ltd.
• Silversea Cruises
• Westwood Shipping Lines
About the Blue Circle Award:
Under Port Metro Vancouver's EcoAction Program for Shipping, vessels that qualify will be eligible to receive the Blue Circle Award, a recognition reserved for only the highest emissions reduction achievements.
The Blue Circle Awards honour gold, silver or bronze ratings based on efforts to reduce air emissions, depending on the quality of fuel used and overall emission reductions. Vessel operators can apply for the program at each call or provide an annual declaration for their vessels.