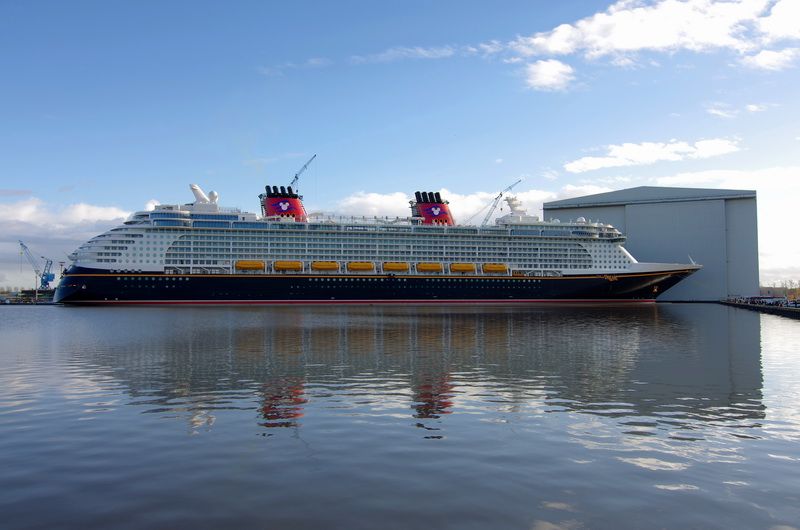 "We started from the bottom up," said Frank de Heer, vice president, new ship development for Walt Disney Imagineering, in an interview and behind-the-scenes exclusive with Cruise Industry News.
The full version of this technical article will appear in the 2011 Spring edition of the Cruise Industry News Quarterly Magazine, click here to subscribe.
To start, the new Disney Cruise Line ship, Disney Dream, has a hard hull-coating that Disney tried on the Magic five years ago.
"It's a hard coating that when applied feels like fiber glass," explained de Heer. "We tried it on the Magic and were pleasantly surprised with the fuel savings. It's a 20-year product that does not need to be re-applied." The coating does not pollute water.
Over the last ten years, the line has cut the Magic's fuel consumption by 10 percent, added de Heer.
The Dream has a normal propeller arrangement instead of pods, but is the first ship in the industry with a fixed/bolted propeller.
"It's more efficient by half a percent, and if there is damage you can change single blades underwater," said de Heer, who called propellers "the safe option".
As the ship gets older and heavier, Disney will also be able to change the pitch of the propeller.
"We have twisted spade flap rudders to improve fuel efficiency as well. We've also done a lot of work underneath to improve drag. The Dream hit 23 knots during sea trials."
The Dream also features artificial teak railings and floors in an effort to shed unnecessary weight. Furthermore, teak requires an enormous amount of maintenance and is very expensive.
"The ship is lighter and that saves fuel," continued de Heer, who joined Disney Cruise Line in 1996. "We looked at that through the entire design process; how to make the ship lighter. A chair that is five kilos lighter times 700 chairs can be a lot."
The Disney Dream was built to Safe Return to Port standards, even though the contract was signed before those rules came into effect, added de Heer, who also pointed out the rules were not exactly clear presently.
"There are redundant systems, the piping is a specific distance from the hull, the engine rooms are separate, the propulsion motors are in two rooms and the fuel systems are completely separated," de Heer pointed out.
De Heer was one of three key people overseeing the construction of the Disney Dream. Cruise Industry News, the leading international media source on the industry, talked to the other members of that trio – Tom Wolber (click here) from Disney Cruise Line and Joe Lanzisero (click here) from Walt Disney Imagineering.
The full version of this article will appear in the 2011 Spring edition of the Cruise Industry News Quarterly Magazine, click here to subscribe.