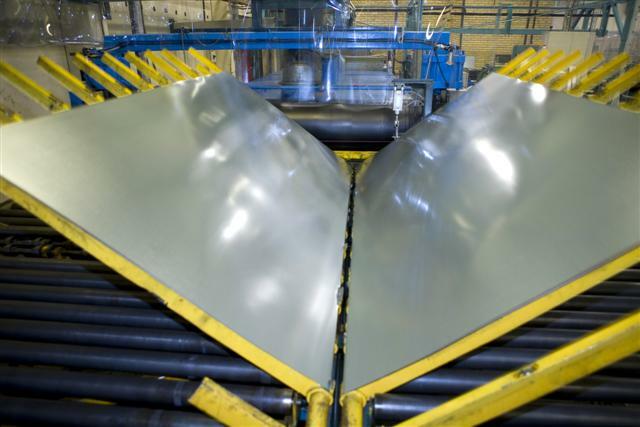 The Swedish company Antiphon AB has introduced a totally new product for structure borne sound damping; antiphon MPM (metal-polymer-metal) foiled, a sheet metal laminate with a thin foil on one side. The core material is two zinc coated sheet steel laminated with an acoustic inner layer to obtain the best structure borne sound damping. MPM foiled makes it possible to use laminated sandwich systems in more visible environments and also to choose MPM foiled deliberately as a decoration material where sound damping is wished for. MPM foiled is used when the demands for appearance as well as function are high. Aluminium is also an option as core material.
MPM foiled has the same qualities as the traditional MPM and is used to reduce vibrations and structure borne sound without increasing the weight of the construction and at the same time replace already existing materials. MPM foiled is available in a wide variety of foil surfaces, colours and patterns. MPM foiled is delivered with a peelable protective film.
The durable surface complies with the high demands concerning quality and flammability which makes the material interesting to marine applications and interior design such as cabin- and corridor panels. Interior surfaces for the automotive sector, appliance housings, doors and shop lay-outs are other possible application fields.
The thinnest sheets is 1,04 mm where the system consists of two sheet steel of thickness 0,5 mm laminated with a 0,04 mm acoustic inner layer. For aluminium minimum thickness is 1,44 mm. Maximum thickness is 6,1 mm.
MPM foiled is delivered in format sizes of maximum dimension 1250×3000 mm. MPM foiled can be worked with methods normally used within the industry to cut, press and punch. When bending is required, special instructions might be needed. Welding and laser cutting is not advisable. Mechanical joints, bonded joints or combinations here of are jointing methods used.
MPM foiled can be recycled as standard sheet steel.