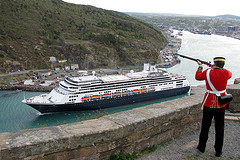 2010 is shaping up to be the best cruise season ever, according to the Cruise Newfoundland and Labrador (Cruise NL) group. Over 83,000 passengers and crew are scheduled to call on 50 provincial ports on 27 ships. Inaugural calls for 2010 include the AIDAluna, Amadea, Arcadia, Poesia Seven Seas Voyager, Silver Spirit and Spirit of Oceanus. Adventure Canada and Travel Dynamics have circumnavigation cruises scheduled for 2010.
In addition, 2009 marked the best-ever cruise season for Red Bay, Labrador, according to Cruise NL. A total of six cruise ship visits disembarked 1523 passengers. This surpasses the previous record of 543, set in 2004. For several years leading up to 2009, the Town of Red Bay and its regional partners, including Parks Canada, the Labrador Straits Historical Development Corporation, the Labrador Straits Development Corporation and Destination Labrador, have been working on a plan to develop and implement an adaptive reuse strategy for the former fish plant facility in the community. In 2009 the Town implemented the first phase of the project. A new floating dock was put in place, a parking area for buses was developed and the facility itself was given a much-needed facelift. A cruise committee has been active in the Labrador Straits region in 2009. The committee has been involved to the planning of cruise ship visits to Red Bay and in activities during the visit, particularly in the organization of excursions to other areas of the Labrador Straits, the preparation and dissemination of information and creating opportunities for businesses and individuals to become involved.
Cruise NL also reported that 2009 was successful year for St. John's. Over the course of the cruise season—which spanned from May 20th to October 29th – 11 ships visited the port. These ships brought nearly 11,000 visitors to the City of St. John's, resulting in an overall economic benefit of $1,735,067 for the local economy. 2009 also saw the introduction of new programs from different cruise lines. St. John's was chosen as a turnaround port for Travel Dynamics' Clelia II, as it made its inaugural visit to St. John's as part of a new expedition program in Newfoundland and Labrador. Princess Cruises introduced the Tahitian Princess to the City of St. John's and the waters of the North Atlantic, as it tried a new program featuring the Islands of the North Atlantic.
Cruise NL has a new executive director, Lisa Neville, succeeding Yvonne Power, who has retired.