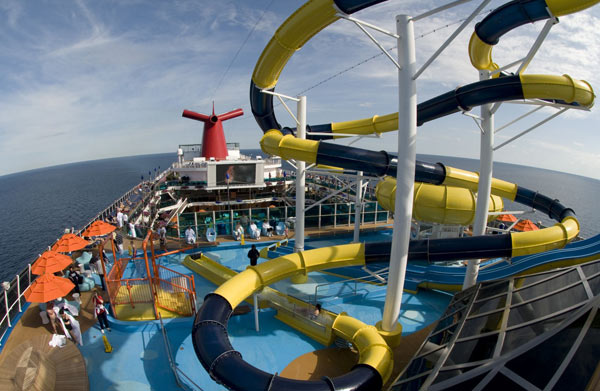 Carnival Cruise Lines is the only cruise line in the world with a clearly defined product, according to Gerry Cahill, president and CEO. "All the other lines are trying to go up-market," he said, "and tend to blend. We are truly defined: we offer a memorable vacation experience and a great value, targeting middle-America. Our target guy is 40 some odd years old and may have a family, but he is not making $1 million a year – he just want to have a great vacation experience."
Last year, Carnival broadened its passenger sourcing by adding Baltimore as a homeport and is starting year-round service from Charleston this year, "all effectively growing our market – while stripping out some cost (air)," said Cahill. "Now 50 percent of US population lives within a 5 hour drive of our ports – helps make the vacation product more affordable."
This may be one of the reasons why the first newbuilding order placed by Carnival Corporation in more than two years was for a new ship for Carnival. The parent company announced in December that a third sister ship to the Carnival Dream will be built by Fincantieri for delivery in spring 2012. The 130,000-ton, 3,690-passenger (double occupancy) ship will cost an estimated $200,000 per berth or $735 million. Not yet named, the new ship will follow the second sister ship, the Carnival Magic, which will be delivered in 2011.
Cahill finds himself at the helm of the largest cruise brand in North America, having been named to that position about two-and-a-half years ago, succeeding Bob Dickinson, after many years as the CFO of Carnival Corporation.
Cahill does not say much about it, but he made a series of executive changes at Carnival, bringing in new executives in marketing, sales and guest services.
The goal, however, has not changed much if at all. "What we try to do," he said, "is to reinforce internally what Carnival Cruise Lines is all about – we do fun better than anybody else."
Cahill said that all senior execs sail on the ships at least four times a year. "I have been on the ships 15 to 20 times this year – meeting with entire crew, and we talk about what we are – how we create memorable experiences – from towel animals to singing and dancing in the dining room," he said.
"Our focus is on reinforcing who we are."
One challenge he faces is that the public perception is not always equal to the product quality – "the quality is far superior to the perception," Cahill said.
He listed two objectives:
First, "We want to people to come back more often. We measure if they come back and how often they come back, and we are seeing an increase. It is the way we do the product. We all know there is huge pressure on pricing, but we have not cut back on the product, the food and entertainment is better than ever, although we have made some trade-offs.
Second, "We want to attract new people – what our marketing department calls "cruise rookies" – we want them to come and try the product for their first cruise – so we need something to catch their eyes – such as waterslide or serenity area. Once onboard, we will win them over through quality.
"Once you understand who you are, it is not so difficult," Cahill said.
Excerpt from Cruise Industry News Quarterly Magazine: Winter 2009/2010