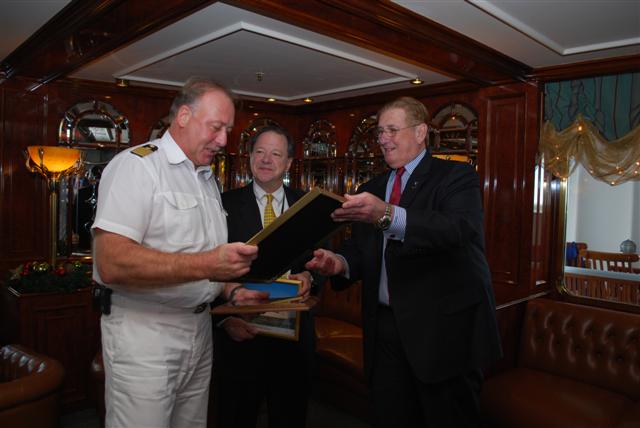 The German-flagged luxury cruise ship Deutschland arrived at the Port's Julia Street Cruise Ship Terminal Tuesday evening marking the vessel's second visit to the Crescent City in as many months.
The 575-foot vessel is owned by German-based Peter Deilmann Cruises, which offers global year-round cruises.
The Deutschland's port call is unique in that the ship stays for a few days offering a port-of-call for existing passengers, a turnover day, and another port-of-call for new passengers. The 600-passenger vessel will depart New Orleans Sunday afternoon.
"Port calls by cruise ships are an important segment of the cruise industry at the Port and for the tourism industry in the entire metro area," said Gary LaGrange, president and CEO of the Port of New Orleans. "These passengers are able to spend time touring south Louisiana and experiencing all of the cultural, historic and culinary destinations we have to offer."
Port officials held a plaque exchange ceremony with the ship's captain today, welcoming the vessel and the cruise line to New Orleans. The cruise ship made its first call in New Orleans in November; however, no formal ceremony was held.
The Deutschland, which entered service in 1998, was built to resemble a traditional grand hotel, which harks back to an earlier era. Upon its departure from New Orleans, the vessel will visit Caribbean and Central American ports of call.
Port officials have several other unique cruise ship calls scheduled for 2010, in addition to the home-ported Carnival Triumph and Norwegian Spirit.