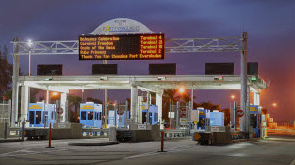 A new electronic sign program at Port Everglades is helping guests better find their way to their cruise ships.
"The new directional signs are a direct response to those cruise guests who told us that they sometimes find it difficult to navigate their way through the Port on busy cruise days," said Port Everglades Director Phil Allen. "The sign program is another customer service feature that makes Port Everglades stand out from other cruise ports."
An independent traffic consultant was contracted to analyze cruise passenger traffic patterns within Port Everglades and design programmable, electronic signs that are easily identifiable and readable. As a result, new custom-designed Variable Message Signs, made by Daktronics, have been installed at the Port's 11 full-time cruise terminals and two parking garages. Larger signs greet guests at Port Everglades' three main entrances, providing ship names and cruise terminal locations in a rotating format. An estimated 25,000 linear feet of fiber optic cable allows Port personnel to control the electronic signs quickly with updated wording and helpful graphics.
Static, color-coded way-finding signs are also being installed throughout the Port to supplement the electronic signs.
F.R. Aleman was contracted through the Port Everglades general engineering consultant contract with Craven Thompson for the traffic flow study. Florida-based traffic control company Highway Safety Devices was hired through a competitive bid process in September 2008 to construct the project.