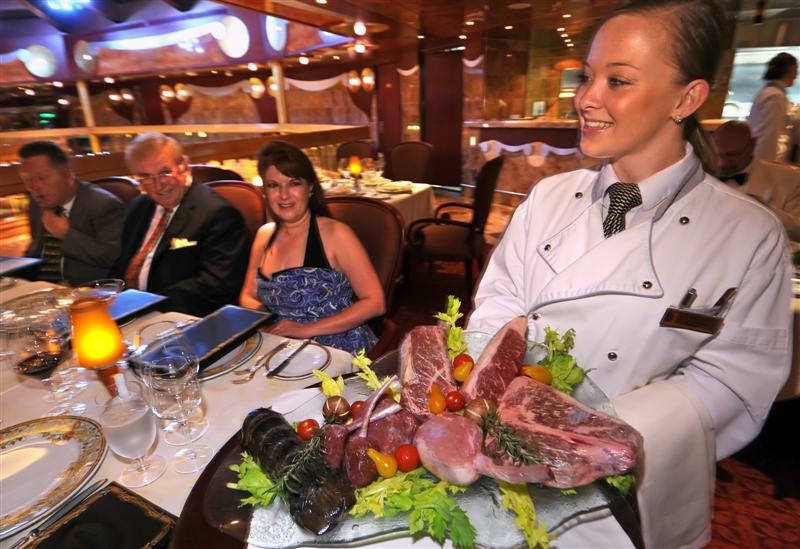 Cruise line food and beverage executives face challenges that landside chefs and restaurant owners do not – such as maintaining a fresh supply of fish and produce on long hauls at sea and frequent re-training of culinary staff due to the transitory nature of crew contracts.
However, they still manage to continually push the envelope with regard to introducing new choices in cuisine, creative presentation, and interactive food programs for passengers. This is crucial in order to "wow" both first timers as well as repeat passengers.
Food and beverage executives also note that while innovation is a big factor, it is important not to alienate past passengers looking for the familiar.
"Innovation is good, but familiarity is key for many of our guests. So, in many cases, we evolve our programs rather than radically revolutionize," said Frank Weber, Royal Caribbean International's vice president of food and beverage.
This balancing act continues to be met with success, since passengers still rate food as one of their top experiences, even amidst all the other bells and whistles that mega ships offer.
Open seating dining even aboard the large cruise lines continues to grow in popularity. Carnival now has open seating dinner on eight ships and is in the midst of expanding it fleet-wide according to Natko Nincevic, senior vice president of food, beverage and accommodations.
Royal Caribbean just instituted MyTime Dining, which is being rolled out fleet-wide. Guests can choose traditional main and late seating, or MyTime Dining where they can dine at any time in the main dining room. They can make reservations daily or for the entire week, or walk in at any time.
"The innovation with our system is to preserve what guests can experience in the traditional seating model, where the permanent waiter will remember and deliver guests' preferences every night after the first night. In the development of MyTime Dining, we ensured that guests can request the same waiter. We track the guest preferences through our system and even if a different waiter takes care of the guests, he or she will deliver on the guest preferences," said Weber.
According to Steve Kirsch, director of culinary programs for Holland America Line, "flexibility of choices" is why five Holland America ships now feature the Canaletto Italian restaurant. This free dinner spot is housed in an architecturally modified and sectioned off area of the Lido buffet. The divider wall can be removed by day, and the Canaletto furnishings have a "different look from the rest of the Lido," Kirsch said, in order to give it a restaurant atmosphere.
While Holland America's Culinary Arts Centers have been on all ships fleet-wide for a few years, demo kitchens now feature programming up to five times daily. Kirsch attributed this to increased passenger demand.
On Celebrity Cruises' newest ship, the Solstice, the main restaurant recently changed from using traditional round plates to oval, square, and rectangular ones, along with custom made lids to match. Jacques van Staden, vice president, food and beverage, noted that this changes the "plate perception" and allows the chefs to be more creative in their selections due to new presentation options the plate shapes offer.
One of Princess Cruises' new initiatives is Breakfast at Sabatini's, which features a la carte breakfast for suite passengers in this specialty restaurant. On the Sun, Dawn and Sea Princesses, which do not have a Sabatini's alternative restaurant, the menu is offered in guests' suites.
AIDA Cruises' new AIDAblu, which will be introduced in February 2010, will have a microbrewery which is a "first" for the cruise industry. The microbrewery, staffed by brewers from Bavaria which is known for its beer, will serve the beer it brews for free, while also offering specialty beers for a fee. The ship will also have a Buffalo Steakhouse, like AIDA's other ships. What's unique about this for the German market is that the restaurant will serve American beef. Sebastian Hauschild, AIDA's manager of restaurant services, pointed out that American beef is the highest quality available and has a very different taste from European beef.
Excerpted from the Cruise Industry News Quarterly Magazine Summer 2009.