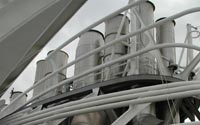 In marine operations, the focus continues to be on fuel and energy savings, in addition to the environment, recruitment and training, according to executives surveyed by Cruise Industry News. Cruise lines are continuously evaluating and testing new technologies, systems and procedures to meet their objectives. The new ships incorporate the tried and true, but also new concepts that did not even exist for ships built five years ago.
Can you describe any new technology or systems (procedures) you have put to use recently and your experience with that?
Captain Burkhard Mueller, vice president of fleet services and operating line compliance, AIDA Cruises: "The technology on the AIDAluna is similar to the sister ships, the Diva and the Bella. We are using flexible camshaft technology on our main MaK engines, and our ships have advanced wastewater systems. In addition, we are introducing an energy counter, a data filter from that tracks individual kilowatt hours allowing us to see the energy flow to the different users, including the propulsion and hotel loads."
Joseph Valenti, senior vice president of marine operations, Crystal Cruises: "We are practicing energy savings in every shape and form. When the Serenity went into drydock this fall, we applied a new coating to the hull that will help us save fuel. We have also looked at all the lighting and have changed or reduced the lighting wherever we can. It used to be that the whole ship was lit 24/7. That is no longer the case. There are reducers in the showers that do not affect the quality of the shower, but save water. And we are careful about where we purchase fresh water. It can be cheaper to make water onboard than to buy it ashore. And we have improved the efficiency of the A/C units."
Francesco Balbi, environmental coordinator, MSC Cruises: "The Fantasia and Splendida have advanced wastewater systems, converting black and graywater to nearly potable water, applicable for technical uses, and cleaning. The systems also reduced our need for fresh water and allow the ships to discharge into the ocean without any harmful aspects.
"Our new ships also have a variety of energy saving devices. The lights go off and the air flow is reduced when the cabins are not occupied, for example.
"We are also looking at installing systems in public rooms that can reduce energy consumption there by as much as 25 percent."
Dr. Marion Katzer, superintendent, Peter Deilmann Cruises: "We have recently installed a new satellite and communications antenna for passenger utilization, as well as Internet capability for passengers and crew. In addition, we have installed a new driving control device, offering advanced navigation features and an upgraded radar system."
John Marden, fleet director, P&O Cruises and Cunard Line: "We just outfitted the QM2 with a new radar, which uses military technology. It has a much sharper picture, especially in sea clutter, making smaller boats visible.
"Together with Princess, we are building a simulator in Amsterdam. Designed around our own bridge systems, it will also use the ports that we call at.
"Voice data recorders have also been integrated with our bridge systems enabling us to record much more information. This is very useful in case of 'nautical incidents' which we can replay in the simulator, creating 'nautical learning' experiences."
Mike Drake, director of nautical operations, P&O Cruises Australia: "In recent years, we have seen the introduction of more modern electronic navigation information, including ENC's in the Oceania region. This has started to change the way we navigate in our regional waters, as in other parts of the world."
Andres Molina, chief operating officer, Pullmantur Cruises: "We are working on fuel savings programs together with Royal Caribbean; contemplating new hull paints; water saving initiatives; more efficient onboard water production; and itinerary planning."
Captain William Wright, senior vice president of marine operations, Royal Caribbean Cruises: "We are implementing a fuel monitoring system allowing us to capture the consumption in different areas so we can benchmark the ships. The system gives a better overview of the energy consumption down to individual galleys and the HVAC in certain sections of the ships."
"With our sister company Celebrity (Cruises) we are pushing the envelope in many areas, including replacing halogen lights with LED bulbs for lower energy consumption. The LED bulbs consume only two to three watts and radiate virtually not heat. The halogen bulbs are 50 watts and create heat that we need air conditioning to cool down again.
"We will be completing the installation of diesels on the Radiance- and Millennium-class ships by the end of the year, adding a 11.5 MW diesel to the gas turbine plant, significantly reducing our dependence on MGO, which costs twice as much.
"We are looking at phase two. Siemens has a gas turbine that is used for land-based power plants which has been certified by Det Norske Veritas to burn IFO 180. It is also much more robust – like a tank of a gas turbine.
"The beauty is that the Siemens turbine fits right into the present housing for the GE turbine. We can make the switch through the shell gate. while the ship is in drydock for regular service.
"Our estimates indicate a payback over three years."
Grant Laversuch, director of operations, Saga Cruises: "Apart from new bridge equipment such as ECDISC, the real advances recently are in real-time access to information over the Internet. This is very useful for weather maps and updates; access to regulations; information on ice conditions when operating in such areas; and hazardous chemical information."
Willy Kristensen, senior vice president, marine and technical, SeaDream Yacht Club: "As for technology, our latest installation is a new security system."
Lorenzo Malvarosa, CEO, V.Ships Leisure: "We are focusing on two areas – fuel savings and the environment. Even at $60, fuel costs are high. Through V.Delta, the joint venture between V.Ships and Deltamarin, we are researching and testing means to operate more efficiently.
"We also do fuel consumption assessments and cost/benefit analysis for our clients whereby we are able to identify the various consumers of energy and make recommendations for more efficient operations. We offer training programs for crew; a lot can be gained by changing the culture – the way people think – making them understand how different operating parameters affect consumption.
"Because ships may be operated differently, we even see big differences between sister ships on the same run. In this case, ferries."
Excerpt from Cruise Industry News Quarterly Magazine: Winter 2008-2009