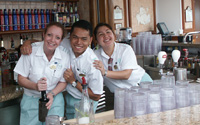 The cruise lines continue to raise the bar on product delivery, supported by crew training and motivation, and advanced software applications. The focus is on raising product standards for dining, with open seating and alternative restaurants; entertainment and programming; guest accommodations, disembarkation procedures, and more, while also driving onboard revenue, containing costs and protecting the environment. Every aspect is being looked at and evaluated and the appropriate action taken, according to executives surveyed by Cruise Industry News.
What are some of the challenges you are facing and how are dealing with them?
Michael Rohr, vice president of guest services, AIDA Cruises: "The biggest challenge is crewing. We have opened our own training center in Manila, and we train crew before they join the ship. House-keeping staff is able to train in a mock-up cabin we have in Manila, and we are also working with bar and galley staff. In addition, we are working with Carnival (Corporation) in other countries.
"With a bigger fleet, we are establishing fleetwide quality standards with systems and checklists. By 2012, we will have nine ships.
"(In these challenging times) the Germans are focusing on main brands, and established products will do best. Our challenge will be to make sure that AIDA continues to say at the top of market awareness. And being part of Carnival (Corporation), we benefit from synergies in such areas as purchasing and training."
Natko Nincevic, senior vice president of hotel operations, Carnival Cruise Lines: "(In light of the economic situation) We have made a conscious decision not to do anything that will affect the product (negatively). Our product is at a decent level, and we have made the decision not to take any of the quality away. This is not the time to cut, but to manage wiser and smarter, even look for improvements. Meanwhile, we will weather the storm, and we will come out of this situation."
Antonio De Rosa, vice president of cruise operations, Costa Crociere: "We are working hard to reduce and contain costs without touching the product. However, in terms of onboard spending, I believe it is very difficult to get more money out of the pockets of our passengers.
"We must deliver a high quality product, and we must deliver value for money."

Thomas Mazloum, senior vice president of hotel operations, Crystal Cruises: "We are in an environment where we have been challenged by rising costs for some time – for fuel, food and labor. This is not new and is all about people and procedures. The key is to buy as efficiently as possible, and then to have the right people onboard. With skilled people and the right products, you eliminate a lot of food waste, for instance.
"We have reviewed our supply chain management from how requests are made from the ships through the ordering, purchasing and delivery. We are now able to keep better track of every step in the system which allows us to identify the costs at every step.
"Food costs started to go up a year ago. Fuel has always been a challenge, but the price is better now than a year ago. We were also challenged by the euro last year, but that situation has now improved with a stronger dollar.
"We have opened our own culinary school in Manila and we offer professional training to our management.
"We are prepared. When you look back on 2007, there is no secret that it was the best year in the company's history. And while success may tempt companies to grow fat and complacent, we made sure we added no fat whatsoever.
"The new technology has motivated officers and crew. How to stay in touch with family and friends at a reasonable cost has always been a crew issue. We now have a Website dedicated to crew, which they can use to communicate with family and friends at no cost."
Bjorn Andersson, manager of shipboard and network operations, Crystal: "One onboard challenge is the latency of the satellite communications system. To keep up, we have added bandwidth and Web-accelerated technology, which have led to faster response times. We also prioritize traffic, knowing when passengers, for instance, tend to check their e-mails. We have wireless all over the ships.

"Having an agreement with Microsoft Enterprises also allows Crystal two to three weeks lead time on new product introductions. For instance, we were the first to introduce Vista."
Tim Skinner, corporate manager, hotel operations, MSC Cruises: "One challenge is the different dimension that comes with bigger ships. We are also sticking to full restaurant service with two seatings in our dining rooms, although we have introduced a la carte dining and an alternative Japanese restaurant. The Fantasia has a Tex-Mex and a French alternative restaurant.
"Crewing is another challenge; we needed 1,400 crew for the Fantasia and another 1,400 for rotation. With four more ships coming, crewing will continue to be a challenge.
"We have a crew academy in Bali with a mock-up ship, teaching job skills as well as safety and firefighting.
"Waiter training includes carrying a tray with 12 plates of food 1.1 kilometers up and down stairs. So when they arrive on the ship, they are ready.
"No matter what kind of hardware you have, the people are the 'heart' of the ship."
Stephen Walsh, manager of hotel operations, Peter Deilmann Cruises: "Environmental issues and fuel. We are studying behavior modification in various departments onboard in order to save fuel, reduce our energy needs, decrease our use of disposables and increase recyclables. We are also evaluating new energy efficient equipment to realize the same objectives."
Alison Lucas, product director, P&O Cruises UK: "The ongoing challenge is to always stay ahead. But the basics are the same since when I joined the company, to run a commercially viable operation and create return for our shareholders."
Sture Myrmell, vice president of hotel operations, P&O Cruises Australia: "Finding the right people with the right skill set is a challenge within an expanding industry. Apart from focusing on internal training and development opportunities, we are exploring new labor markets in the South Pacific and are actively working with island communities to provide employment and career opportunities aboard our vessels."
Rai Caluori, executive vice president of fleet operations, Princess: "We are focusing on recruitment and retention, especially for technical crew to run the complex plants of the new ships.
"In addition, we are focusing on our service delivery and have introduced a new concept for our crew – 'the consummate host' – taking our C.R.U.I.S.E. credo: Courtesy, Respect, Unfailing in Service Excellence, one step further. The service will differentiate us in the future and is the key to our success. Hence, we will continue to invest in crew training."
Andres Molina, chief operating officer, Pullmantur Cruises: "The biggest challenges are the adaptation to our new niche markets, that is, France, with the Bleu de France, and Mexico this year, and Portugal as well.
"We are carefully studying the cultural needs of our potential clients and we adapted our décor, food, daily programs, language and so forth.
"In some cases, like repositioning from Brazil to Europe and back, we have to change about 30 percent of our crew, which requires a big effort by our human resources department and onboard training."
Lisa Bauer, senior vice president of hotel operations, Royal Caribbean International: "We are spending a lot of time listening to our guests. We have brand quality reviews, guest satisfaction surveys, quarterly research and read all the post-cruise letters. We look at all the information: What does it tell us we do well? Where do we need to focus? What is important to the customer?
"For example, when we shut the Adventure Ocean down from 12 to 2 p.m., parents would complain they had to shuttle their kids back and forth, and the kids where often unhappy as well, having to leave their favorite spot. Parents told us they would gladly pay to keep their kids there, so we offered a lunch program with a lunch box for $7.95 and it has been a great success.
"We are trying find the best balance between bringing new product and value to our guests."
Hans Heger, director of hotel operations, V.Ships: "Our focus this year has to be on the roller coasters – currency, fuel and the economy. The weak dollar at the beginning of the year impacted the cost side, although it made cruising more attractive for Americans traveling in Europe. The stronger dollar is starting to play in our favor and fuel costs are coming down as well.
"We are also focused on port costs that seem to be out of control. Port services are extremely monopolized and the costs are in some cases outrageous. This issue demands more attention on a European-wide basis.
"We are waiting to see how bookings will develop for 2009, but expect that everybody is far behind, and we may see some ships laid up and building orders cancelled."
Excerpt from Cruise Industry News Quarterly Magazine: Winter 2008-2009