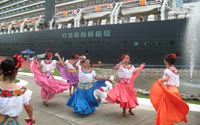 Mexico has confronted a series of challenges recently: growing worldwide competition, ports crippled by hurricane devastation and encroaching homogenization. Instead of blanching, the country's tourism and port officials faced the problems head-on, meeting periodically to develop specific action plans, appointing people to carry them out and measuring their effectiveness. They rebuilt hurricane-damaged piers and, in line with President Felipe Calderón's infrastructure plan, started or completed developments in 13 ports.
"Since 2004 our ports have not operated at full capacity," said Carolina Cárdenas, Mexico's deputy tourism minister in an interview with Cruise Industry News. In October 2005, Cozumel was knocked out of commission by Hurricane Wilma.
"In 2006 Cozumel was recovering, though it wasn't at full capacity, and Costa Maya was handling upwards of 750,000 visitors," Cárdenas said. "Then 2007 was going strong, until August arrived, and Hurricane Dean completely destroyed Costa Maya. So in 2008 we have not had the capacity that we had in 2004 and 2005. If nothing happens this year, 2009 will be our first completely operational year."
Besides bouncing back, Mexico is capitalizing on its strengths. The Tourism Ministry and the Ports Authority are collaborating with destinations and with one another to differentiate ports of call while creating themes that link them and enable them to complement one another.
The president's grand infrastructure plan includes building 13 new cruise installations in both established and newcomer destinations: Puerto Cortés, Cabo San Lucas, Loreto, Guaymas, Mazatlán, Puerto Vallarta, Manzanillo, Cozumel, Playa del Carmen and Punta Brava.
And it's not all talk. Two of the installations, in Puerto Vallarta, were inaugurated last year. Cruise ships started arriving at Guaymas' new pier and terminal on Oct. 16. Another development in Mazatlán is under construction, another in Manzanillo is in the bidding stages, and a new terminal in Acapulco has been postponed, but is still scheduled for 2009.
The Ministry of Tourism has turned proactive, holding periodic meetings with state and local tourism officials and starting a newsletter informing the ports of everything from developments to training classes to trends. It has set up an agenda, with timeframes and priority levels for each port.
"As far as the Ministry of Planning goes, the most important thing happening is the creation of a competitive agenda for each one of the ports," said Cárdenas. The government is working with local officials in the country's 18 major cruise ports.
"For each port we have 20 to 25 actions that each one can do to improve," Cárdenas said. Each port has identified its priorities, which vary from destination to destination. Differentiation of ports is a major focus.
"That is one of the themes, that each port is different, with its music, its dances, with its cuisine, folklore, its typical clothing, each one with its own characteristics," Cárdenas pointed out. They are working to highlight these differences so that people don't find the same goods in every port.
There is also an executive tourism committee made up of representatives from the ministries of tourism, the environment, finance, the economic sector, immigration and other agencies that are working together to boost sustainable tourism. The committee also troubleshoots on anything from facilitating sport-fishing licenses to streamlining clunky regulations.
Another important initiative is to standardize entry and check-in procedures at each port, which now have their own methods. Cárdenas said they are in the process of creating one system that everyone uses. This includes things like digitizing and e-mailing passenger lists instead of printing out a cumbersome manifest each time a ship comes into port.
Inasmuch as the measure streamlines the process and maximizes passengers' time onshore, it also enhances competitiveness, pointed out Jose Quiñones, the tourism ministry's director of interagency policy.
In addition, the government has created regional committees for the Pacific route, the Gulf, the Sea of Cortes and the Caribbean. Each team meets with Cárdenas every two months.
"They are realizing that one ship touches various ports, and that it's very important to ensure success all along the route so that both the ships and the passengers return," Quiñones said.
The 2006-2012 document that forms the action plan complements the 2004 cruise policy set out by the federal government. The 2004 document forms the cornerstone of cruise tourism philosophy, while the more recent document is an action plan.
"Long-term plans and outlook remain the same, Cárdenas and others said. "We are going to continue working with the indicators to evaluate whether the local measures are working," Cárdenas added. "Mexico has much more potential than just the Caribbean."
Excerpt from Cruise Industry News Quarterly Magazine: Winter 2008-2009