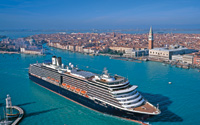 Holland America Line has been focused on North America for a long time. But as the industry has taken on a more global proportion, it is inevitable that Holland America with 14 ships is also leaving a worldwide footprint, said Stein Kruse, CEO and president. "We have a brand with universal appeal," he said. "We have this very unique atmosphere onboard that makes people feel comfortable. It transcends borders. While most of our passengers are from the United States, we also attract passengers from Canada, the UK, Europe and Australia. We are gravitating toward more international passenger sourcing, but our brand is still Americentric."
The company's name and identity also sets it apart. "We look upon our Dutch identity as a badge of honor," Kruse said. "We celebrate our heritage and close association with the Netherlands and with the royal family. We have some 500 Dutch officers onboard and have many Dutch vendors.
"Holland America was founded in Rotterdam 135 years ago, and when we sail around the world with the Dutch flag, we are an extension of the Netherlands as we visit foreign ports. It is a real point of differentiation. We are proud to have this association, and treat that relationship with a great deal of respect."
Points of Difference
"We are the leader in the premium segment of the industry with an established platform that others aspire to," Kruse continued, and attributed the brand's reputation to its service level, the high quality and consistent product delivery, and its midsized ships.
"We are firmly entrenched and aim to maintain our ownership and leadership as a premium brand," Kruse said.
"Our strength lies in our midsized ships, which are still relatively smaller versus the industry trend. If you look at our newest ship, the Eurodam, you will see that even though she is bigger than our other classes of ships, she is still midsized from an industry perspective and even smaller. She offers the intimacy and unique level of quality that is appropriate to our brand."
Kruse said the level of service is integrated with the company's employee-oriented focus.
"Companies are managed on the basis of revenue, cost and income, listing liabilities and assets," he said.
"And our biggest asset is our people: the value of our talent pool, their knowledge and experience.
When you have 16,000 employees who understand and embrace your mission, you become a much stronger company and you can make great things happen," Kruse said.
Shot of Adrenalin
Having joined Holland America in 1999 as senior vice president of fleet operations, Kruse was named president and COO in 2003, and CEO in 2004.
"I inherited a very strong and profitable company," he said. "The foundation had already been laid. Our sole focus is on the quality of our product.
"However, back in 2002 and 2003, we felt as an organization that we had become a bit too comfortable in who we were. We felt a need for a shot of adrenalin to make our product more timely and modern. So we came up with Signature of Excellence (SOE) and embarked on something that has since become an industry standard: a comprehensive massive face lift of hardware and software. To bring our ships into a new era, we put better and more comfortable mattresses onboard, Egyptian cotton sheets, flat-screen TVs and much more.
"SOE also appealed to our employees; they have felt revitalized as have our customers. Travel agents like it too, and our shareholders have been rewarded," Kruse said.
"Instead of being a one-time project, SOE has become who we are. We are now embarking on another stage of the continuum – spending another $200 million on five ships (on top of more than $300 million already spent)."
"SOE also allows our talent pool to embrace who we are as a company," Kruse added. "We are not only building new ships; we are making sure our existing fleet is state of the art."
But it is not that the fleet is old. The oldest ship, the Prinsendam was built in 1988, but has been modernized to the tune of $30 million. The S-class was built in the mid-90s, and the other ships after that, including the Eurodam, which entered service this past summer.
"Our fleet is young," Kruse said, "but we have by no means been resting on our laurels. We took the opportunity and looked at our ships that had been in service for 10 years to see where we could do something new.
"By doing that we are reinforcing the message; making sure that we continue to be successful by implementing our standards consistently – on all 14 ships."
Business Model
"As a premium company with a global footprint, we need to maintain slightly smaller ships, but that does not preclude slightly larger ships in the future," Kruse said. "That will depend on what the market is looking for."
His formula for running a profitable cruise line is simple: "Make sure you have revenues that exceed costs and make sure costs are in line with product quality. I am very focused on revenues and costs, and at the end of the day, we have very satisfied customers," Kruse said.
The job at the top is complex: managing an organization with moving parts across 24 time zones and seven continents, with 30,000 people, including crew and passengers, making sure they are safe and happy.
And if something were to happen, you have to be prepared to minimize the impact, Kruse said. "We make sure we have the people, systems, processes, technologies and standards in place to deal with what happens, and can happen, all the time."
The business model is working and has the advantage that ships can move in case of world events or disasters.
The Holland America brand is also in alignment with demographic trends, according to Kruse, who said that boomers have more money, more time and are more inclined to travel. They live longer, feel better and read more, and Holland America will appeal to them by going to interesting destinations and providing value for money.
With another new ship, the Nieuw Amsterdam, entering service in 2010, Kruse said that beyond that there will be more new ships, and he does not expect to retire any ships in the foreseeable future. When the new ships will join the fleet will depend on market timing, currency and the strategic needs of the parent company, he said.
"Holland America will continue to be fundamentally the same company as we are and as we have been," Kruse said. "We have not changed dramatically over the past 10 years. At the end of the day, there is no point in changing what works, but we can tweak it."
Excerpt from Cruise Industry News Quarterly Magazine: Winter 2008-2009