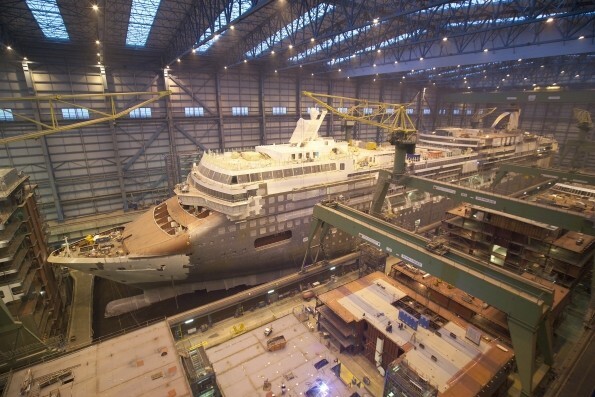 With a steady stream of new ships entering service, the fleet that requires regular, periodic maintenance grows bigger, generating more work for shipyards closer to the sailing regions around the world. In addition, the new state-of-the-art ships also accelerate the need to have older ships modernized – or revitalizes as is the industry term – creating yet more work for the repair yards. But, having said that, the competition among the yards is intensifying, with the yards that previously were happy building new ships, now also branching out into the refurbishment and repair sectors of the business.
Keeping Busy
For many North American yards, 2006 is turning out to be a good year for cruise ship work, as some have bookings as far out as 2008.
In South Carolina, Detyens Shipyards most recently split a repair job with Grand Bahama Shipyard on the Carnival Fascination, where Detyens had the ship for 17 of its 35 days, and in October, the Empress of the Seas was scheduled to have regular maintenance work done.
While Boston Ship Repair, which has one of the largest graving docks on the East Coast , is taking a more aggressive approach to the cruise business and is in talks with Royal Caribbean International, Holland America Line and Princess Cruises, with the possibility of two ships for 2007.
Atlantic Marine in Alabama has been busy doing cruise ship work in 2006 and has several ships scheduled for 2007, and at the time of writing the Disney Wonder was in drydock at BAE's Norfolk Ship Repair with the Crystal Symphony set to arrive in November.
On the West Coast, San Francisco Ship Repair (BAE) and Victoria Shipyards are also busy with cruise ship work.
Bigger Business
Ship repair is also big business in Europe, and many yards are thinking even bigger looking ahead. While Fincantieri's Palermo yard receives the lion's share of repair work in the Mediterranean, Fincantieri is also in the process of making its mark in Northern Europe as well, recently partnering with Lloyd Werft Bremerhaven. In addition, Aker Finnyards has branched out with its Lifecycle Services Division and is now working with Union Naval in Barcelona and Marseilles in the Mediterranean.
Major Player
Grand Bahama Shipyard continues to be a dominant force in the ship repair with about 20 cruise ships per year, and believes there is room for growth – even beyond that.
Excerpt from the Cruise Industry News Quarterly Magazine: Fall 2006