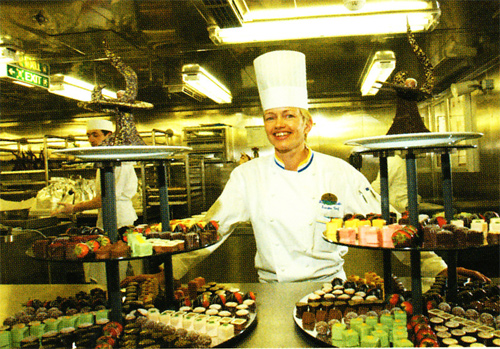 When Helga Finnsdottir was named the executive chef onboard Royal Caribbean International's Grandeur of the Seas in 1999, it marked the first time in the line's history a woman held the high-ranking position. But Finnsdottir, senior executive chef, wasn't to spend much time in a single ship's galley: in 2001, she helped launch the Explorer of the Seas, and since then has assisted in the debut of six other ships. The latest? The line's highly anticipated Freedom of the Seas.
If Finnsdottir is nervous about the launch – or the mindboggling logistical challenge it is to crew, provision and execute the menus properly – she's not showing it. "There's really nothing that keeps me awake at night," she said. "Of course, you're never supposed to be comfortable and relaxed and sure that everything's going to be fine. One thing I have learned is that I need about 36 hours in a day during a startup."
Logistics, Logistics, Logistics
And there is a lot of work to be done. One of Finnsdottir's main responsibilities in a launch is hand-selecting the crew to staff the ship's galleys; in the Freedom's case, there are 11 kitchens to fill.
"We're talking about 220 people that I have selected," she said. "From the fleet it's about 90 percent, with 10 percent new people." The new staff generally are placed in lower-ranking positions such as dishwashers and cleaning crew, while about 70 percent of the higher-ranking positions have previously worked on launches.
She's also responsible for making sure the kitchens and food stations are stocked with the right equipment; in the Freedom's case, she had a budget of well more than $1 million to work with, Finnsdottir said. "We have equipment guidelines to follow, and most of the equipment in the galleys is familiar so there are really no surprises."
Though the Freedom will be the largest cruise ship ever built, Finnsdottir noted that the galleys will be basically the same size – while the dining rooms will be larger to accommodate the increase in passengers. This means that everything has to be functioning correctly at full capacity at all times, Finnsdottir said, with very little room for error. "There's a lot at stake," she said.
The Challenges
As if the Iceland-born Finnsdottir, who began her career with Cunard Line as a chef du cuisine in 1993, doesn't already have enough on her mind, there is no doubt that being a rare female in a male-dominated portion of the cruise industry presents its own set of challenges. But Finnsdottir, with characteristic calm, brushed off the notion that being a woman puts her at any sort of disadvantage.
"I have to say that I have always been very well supported," she said. "Every job has its challenge, but I believe that I fit right in and if anyone had concerns, it was just at the beginning and it's not something that I think about anymore."
Even so, the numbers can be somewhat daunting. Finnsdottir said that even today, only 6-10 people out of 100 in the galleys are women. "Yes, men are still the majority, but working in a kitchen is hard for anybody. But I respect them and they respect me at this point. My satisfaction is when I see the results of everyone's work."
Excerpt from the Cruise Industry News Quarterly Magazine: Spring 2006