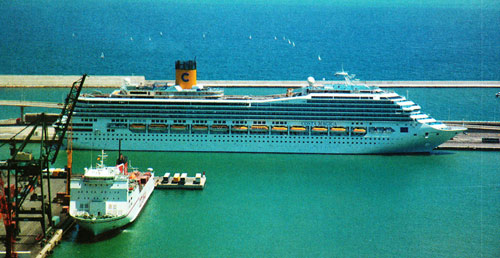 We chose Costa Magica for our cruise this year because it had been 10 years since we sailed the Mediterranean (also on Costa) and that was prior to the Carnival acquisition.
The itinerary was attractive and it also afforded us a few days in as Civitavecchia is the homeport. The ports of call were Savona, Barcelona, Tunis, Palma de Mallorca, , Valletta, and Palermo.
With appropriate names like Raffaello, Tintoretto, Leonardo and Perugino for the cabin levels, we found ourselves on the Caravaggio level in a stateroom with balcony that was very comfortable for two adults and a teenager. It was cheerful and tastefully decorated.
Our cabin stewardess also deserves credit for doing an impeccable job.
Entertainment
Because the Magica embarked and disembarked guests at every port (a logistical feat), every night seemed to be party night. Amazingly, families seemed to stick together – multi-generational in many cases, and it wasn't unusual to see all ages partying and having fun dancing in the same lounge.
The Magica gets an "A" for its diversity and quality of live music. Happily, it was possible to go ballroom dancing, or to a rock and roll party, dance to Latin sounds or listen in the piano bar that featured a pianist and violinist specializing in Strauss.
Shore Excursions
The selection of tours on this cruise was both diverse and creative –perhaps only lagging a bit in the "active sports" area, but nonetheless included a few bicycle tours. It felt good having so many choices and having problems deciding.
With such large numbers, Costa did an impressive organizing job, dividing guests by language, keeping the numbers in each group manageable. Security issues nowadays hamper some efforts in keeping queuing from getting out of hand – particularly upon returning to the ship – an unfortunate sign of the times.
Food & Beverage
If you love Italian food, Costa doesn't disappoint. With 50 different kinds of pasta, an exciting variety of fish and fish dishes, and wonderful pizza varieties, Costa excelled once again. We were so happy with the food and our wait staff at the Costa Smeralda dining room that we dined there every night. The design of the restaurant, with its several levels, was calmly appealing and elegant.
This is not to say that there were not many other choices on the menu including vegetarian meals and other continental choices. We were not restricted in anyway to "going Italian."
Generally we ate in the self-service Lido – Buffet Bellagio – for lunch, but did manage a few luncheons in the dining room to escape the occasional crowds. The lunches in the Costa Smeralda were well served and presented a lot of variety as well. Although we always managed to find a table in the Lido, the noise level there was a bit much some days. Here, too, with several levels, it was possible to escape some of the din by simply moving away from the main floor and up to the second level.
Italian Style
We had a truly remarkable Italian family experience on this cruise. Good food, good wine, good times. It was joyful to see families eating together, touring together and celebrating together. Generations didn't matter – but their life together did. Ciao! – Angela Reale Mathisen
Excerpt from the Cruise Industry News Quarterly Magazine: Fall 2005