While table linens come in many fabrics, shapes and colors, the cruise lines and the linen manufacturers agree that linens help design the dining room and play an important role in creating the ambiance for the dining experience. They also agree that linen must be durable, but beyond that the manufacturers sometimes go in different directions.
"We are seeing a move towards a more color-conscious decor," said Todd Imming, director of marketing at Artex International. "With the popularity of themed restaurants, there is much more emphasis on color, ambiance and the tone of the dining room than ever before.
"We are seeing more restaurants using a holistic approach to design, which considers all the elements in the dining room including linens, tables, silverware and glassware as components of the overall design. This opens the door for a wide selection of colors and fabrics to create the look that is right for the cruise line and the ship."
At Riegel Table Linen, a division of Mt. Vernon Mills, Chris Gowdy, director of marketing, said that cruise lines are instead focusing on basic colors, like white, and mixing in different colored napkins on different nights. "This keeps things fresh, while also reducing costs," he said.
Steve Bobo, director of corporate accounts at Milliken & Company, agreed: "We are seeing cruise lines using just four basic colors," he said. "One for restaurants, one for the lido buffet, one for room service and one for specialty dining. This helps centralize locations for storage and facilitates inventory control."
According to Bobo, many of the alternative restaurants also use specialty linen or logos to set them apart and upgrade from the traditional dining room. "It is a subtle yet powerful way to tie in the theme of a restaurant to the cruise ship itself," added Imming. "We offer name- woven and custom designs in a number of fabric styles, which gives customers several options that weren't previously available," he said.
But Gowdy said logo napkins were not such a hot idea. "They make great souvenirs and they tend to walk off the ships. There is not a lot of added value in that," he noted.
First Impression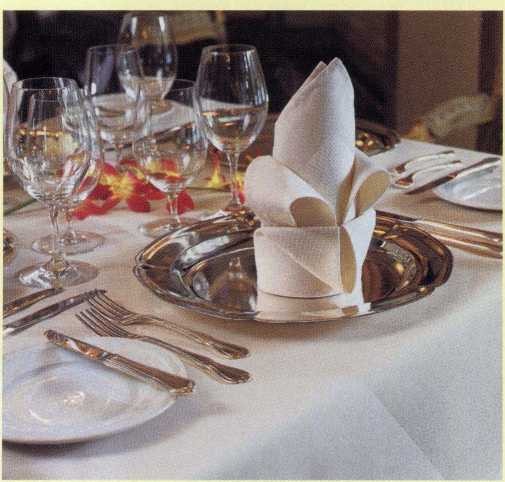 "Our role is to help make the dining an unforgettable experience for the guests," said Bobo.
"The first thing passengers notice when they walk into the dining room is the table settings," he added.
"You want your passengers to see inviting table linen that is consistent in color on every table with fresh-starched folded napkins.
"Table linens also provide the ambiance for those breathtaking views or that romantic secluded table for two," Bobo added.
"Linen gives the diner the feeling of 'upscale' dining, even if it is not a five-star experience," said Riegel's Gowdy. "Think about this: How do you feel when you go to a restaurant and have a table with no table cloth and a paper napkin? You think 'fast' food. Linen, even if it is just a cloth napkin, creates an upscale meal at a very small cost."
Color Trends
The suppliers can provide virtually any color. According to Bobo, some of the more popular colors are Bermuda sand, seafoam green, maroon, harvest gold, royal blue, peach and white. "We can match any color they can dream of," he added.
"Obviously white continues to be the leader," said Gowdy. "Anyone who tells you different is living on another planet. Other popular colors for cruise lines are light colors (golds, light blues, etc.) with some strong colors like burgundy and royal blue continuing to have a strong presence.
"Looking forward, I think we will see colors play less and less of a role and cruise lines simplifying (having a few colors instead of tons of them). This will help to control costs by reducing units and reorder points," Gowdy said.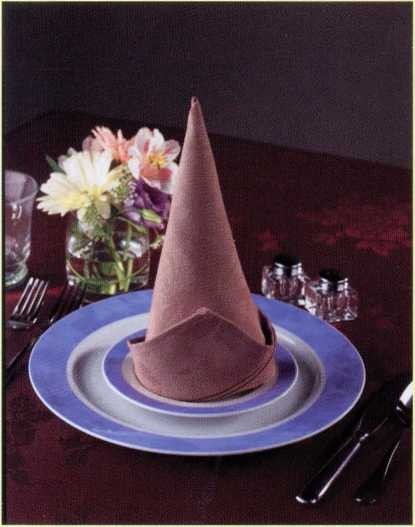 New Product Lines
New for 2002, Artex offers two new lines of linen: Provincial, which is a conference cloth that also helps manage background noise; and Dirona, a European-inspired luxury linen collection. In addition, Artex also offers a full line of chef apparel, available in 100 percent cotton, cotton blends, and 100 percent polyester.
Artex offers a large selection of linens and napery ranging from 100 percent cotton to blended products to 100 percent spun-yard polyester. These fabric types are available in either damask or plain weave. For outdoor use, Artex offers a line of vinyl table coverings.
Riegel has introduced two new product lines: printed polyester with tropical and contemporary prints that are durable and reasonably priced, according to Gowdy, who also said "the prints will light up the room and last the life of the product." In addition is its Monarch spun and filament fabric, offering a very soft "hand" which is derived from wet finishing versus mechanical finishing, according to Gowdy, who said the product was ideal for napkins.
Riegel also offers a range of colors and sizes of 100 percent cotton satin band, 50/50 damask, 50/50 Permalux and all-polyester.
Meanwhile, at Milliken, Bobo said the company's Embassy satin band line was rapidly gaining popularity in the industry. He said the fabric has Milliken's "Softouch" finish which gives it a great feel along with excellent return on investment. The damask fabrics also have superior pattern definition, he said, and will not wash out. They are also absorbent, foldable and starchable with no linting or piling.
Bobo also noted that Milliken can supply special sizes, such as for the captain's table, for instance.
"The cruise lines are looking for value," Bobo said. "They can save money through buying more durable products and save the hidden costs by not having to re-order so often. It takes a lot of time and manpower to re-dorder products," he added. "If you can cut that out, you save yourself a lot of headache."
Expanded Services
All the manufacturers offer crew training regarding washing, storage and napkin folding. Artex has a laboratory so it can test whether their linens are washed correctly. Riegel offers crew seminars, while Milliken said it has a technical service team and offers onboard laundry services as well.
In addition, Rigel and Artex will help design colors and layouts for the dining rooms.
At Milliken, Bobo said that he has found that cruise-ship designers will take the lead role and request the table linen colors they feel will best coordinate the furnishings and decor.
Artex offers a service it calls Restaurant Atmosphere Design. "This allows the customers to envision what their dining room will look like with different color linens on the table," said Imming. "We ask for pictures of the dining room with white linens and napkins on the table, along with any color swatches of curtains, carpet, chairs, etc., that may be important in developing the overall design. We will scan in the pictures and digitally overlay colors onto the linens. The customer can suggest the colors or we will work with our designer to choose the colors that complement the decor. This service has been instrumental in helping customers through a re-design," Imming said.
All three companies deliver to both the U.S. and overseas markets.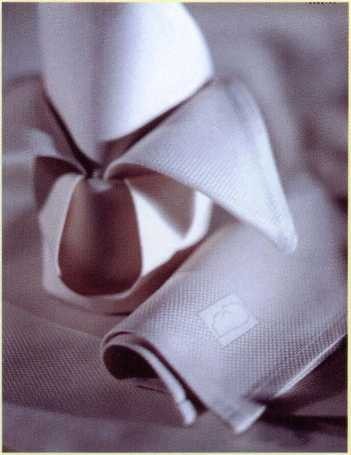 Tough Users' Criteria
The cruise lines look for products that are very durable with long life, but also with a rich, luxurious appearance on the table day after day, according to Bobo. He said that as the table linen par onboard ships tends to be less than at a shoreside restaurant because of limited storage capacity, the linen is washed virtually daily. Thus, it is important that table linen has superior soil and stain release, Bobo said, because linen lost to stains is wasted money.
It is also important that linen can be washed with short wash times and eliminating the drying cycle also creates a more efficient laundry. He said that it is not unusual for linen to undergo 500 washes. Another important characteristic is color retention.
At Riegel, Gowdy agreed: ships need durable products that can be used over and over again, he said. Many shoreside entities can have par levels that do not place such great demands on the laundry and allow the laundry to absorb peak demand more easily than ships. "We have seen some cruise lines diving into polyester napery while some are sticking to the tried- and-true blends. We are able to offer polyester, blends, and all-cotton products, depending on the request of the ship. The 50/ 50 blends continue to dominate because of the soft hand of the cotton (and ease of folding) and the durability of the polyester."
Artex's Imming said that he will work with restaurant and dining room managers as well as food and beverage personnel to determine which fabric will work best for their particular needs.
He said the cruise industry parallels the rest of the hospitality industry in many ways, including the need for colorfast, durable, easy to maintain and easy to clean linen.